"Percolations" is emailed as a newsletter to the list of Coffee Coaster subscribers. (Normally, this newsletter-ette is sent Wednesday night or Thursday mid-day.) Percolations usually begins with the movie review for the weekend, then opens a brief general whassup section. — bw
Advisory: Starting 3/15/12, The Coffee Coaster site is being transitioned to a more functional and more user friendly Wordpress template. Please be patient for the next few months as the system will be hybrid during that time. [The new format facilitates reader comments, and I sincerely solicit any responses to any columns or reviews using the simplified interface. Thanks.] — bw
Excerpt of Review


Drive (2011):
Cross between Bullitt and Sin City ___ 9/10
Drive sneaks up on you, rather rolls right past. [I watched the DVD twice, on successive nights.] It's fast paced, starting with an enigmatic 'man-with-no-name' sort of fellow simply known for what he does. He rode into town a few years ago and got a job at a garage run by a man named Shannon (Bryan Cranston). Shannon walks a fine line between legitimacy—providing stunt driving services to the movie industry—and criminality—arranging getaway cars for an underworld breaking and entering crowd. In either case, Driver (Ryan Gosling) is Shannon's main man, and has extraordinary road skills clearly equal to the best race car drivers in the smaller circuits. Driving is his life.. [Full Review]
---
Guest Column
Are You Libertarian Enough?
Time to man up for the Freedom Philosophy
Anthony Gregory
For a practical consideration, I'd like to point out that our rulers are constantly asking themselves – or appear to be acting as though they are – the opposing question: "Am I statist enough? Is there any remaining avenue of human life I haven't worked to subjugate under the authority of my central plan?" We American libertarians live in a time when the U.S. is at perpetual war, the airports have become dystopian, the prison system is the most populated on earth, the president claims the authority to kill anyone, torture persists, surveillance is unrestrained by the Fourth Amendment, Keynesianism has its grip on the entire establishment, and both political parties push an agenda worse than the one pushed last election cycle. People are jailed for selling milk. Nothing is off limits. [Full Column]
---
COFFEE COASTER WEEKLY PERKS
"To sin by silence when we should protest makes cowards out of men."
— Ella Wheeler Wilcox






MUST SEE:
Very Special Brasscheck TV broadcast: In conjunction with Prison Planet, Russell Means is featured in a 1:30 long presentation entitled "Russell Means: Welcome to the Reservation." What the Oligarchy is doing to us is what it's been doing to the American Indians from the beginning! I have never seen as thorough and incisive an analysis of what ails human society--particularly America--nor a judgment of what we need to do. Starting by enforcing the Constitution and taking away privileges of the money power. ABSOLUTELY A BLOCKBUSTER! If anyone knows how to get the DVD, please, please send me a note.

Russell is in the news from INN (Infowars Nightly News) again, and he has been suffering from health issues—tho latests news is the cancer seems to have been defeated, hooray! Please contribute through the referenced site or through this PayPal link shown as follows:
---
UN calls on Obama to Investigate and Prosecute U.S. Torture Charges
Wikileaks Documents Prove Torture, Abuse and Criminal Acts Were Systematic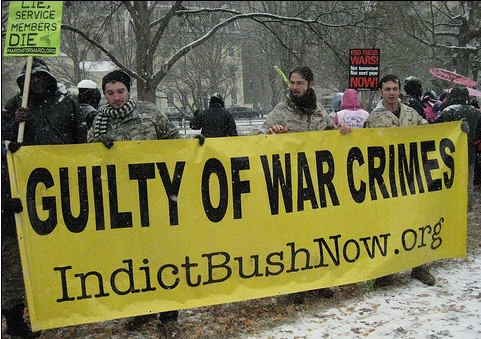 In the wake of the release of 400,000 documents by Wikileaks, the United Nations has called on U.S. President Barack Obama to order a full investigation of crimes committed against the Iraqi people following the invasion and occupation that was directed by George W. Bush, Dick Cheney and Donald Rumsfeld. UN special rapporteur on torture Manfred Nowak declared that the Obama administration has a legal and moral obligation to fully investigate credible claims of US forces' complicity in torture. Nick Clegg, the deputy Prime Minister in the UK has, in the wake of the recent revelations, also called for an investigation into the reports of mass torture disclosed in the newly released documents. Check out this extremely illuminating RT video outlining multiple horrendous crimes on the Iraqi people as US government policy. Then act!
---
My personally adopted American political prisoner is Pete Hendrickson. He currently languishes in federal detention for crimes that are not crimes, for articulating the truth on federal taxation powers. Please help him financially and by getting out the word.
---
Help Pete Hendrickson uphold the tax law on the federal government: Please check out Pete's latest letter above then a less recent one here: "Tax Truth from the Front: Timely clarity on income tax from Pete Hendrickson." You can branch off to other sites, but we must free Pete Hendrickson and liberate all the other political prisoners if we are to enjoy a benevolent, free society based on the Sacred Nonaggression Principle. Pete's recent News Release. Please distribute it widely among the media.
Please communicate with Pete by mail at:
Peter Hendrickson #15406-039,
P.O. Box 1000,
Milan FCI,
E. Arkona Rd.,
Milan, MI 48160
Then help with the financial end with his family going through an equal if not greater amount of stress from the federal mobsters. Please send donations to:
Peter or Doreen Hendrickson
232 Oriole Rd.
Commerce Twp.
Michigan 48382
---
Also Bernard von Nothaus, Liberty Dollar Founder
Please write to Judge Vorhees
Dear Liberty Dollar Supporters
From Bernard von NotHaus: Now that I am simply waiting for my sentencing date, the time has come for your direct participation in the legal process that will help define your seized property, the future of the Liberty Dollar and possibly the rest of my life. Now is the time for you to speak up with a personal letter addressed to: The Honorable Richard L. Voorhees who was my trial judge and the judge who will sentence me very shortly. It is my opinion that the jury erred and the judge was fair and impartial so please address Judge Voorhees respectfully.
Please send your brief letter ASAP to:
The Honorable Richard L. Voorhees
U.S. District Judge
United States District Court for the Western District of North Carolina
250 Charles R. Jonas Federal Bldg.
401 West Trade Street
Charlotte NC 28202
And add: PLEASE FREE BVNH to the bottom left hand corner of your envelope.
Please click HERE to make an anonymous donation. Please note that although givv.org is set up for monthly donations, you can make a one-time donation of any amount.

Or send any donation of value, your check, money order made out to BERNARD and mailed to:
Bernard von NotHaus
527 N. Green River Road
Suite 158
Evansville. IN. 47715
Also write to Bernard c/o Editor@LibertyDollar.org.
---
Subscribe and Archive
About the Coffee Coaster
---
I believe that banking institutions are more dangerous to our liberties than standing armies. If the American people ever allow private banks to control the issue of their currency, first by inflation, then by deflation, the banks and corporations that will grow up around the banks will deprive the people of all property until their children wake-up homeless on the continent their fathers conquered. — Thomas Jefferson 1802

The second sentence appears to be apocryphal (though certainly true).

Please send me your letters or make comments on individual columns, articles, or reviews on the Coffee Coaster site.
---
Subscribe or Unsubscribe to Coffee Coaster Beaniegram
The Coffee Coaster Home Page
Archive Brian Wright Columns
Archive Guest Columns
Archive Movie Reviews
Archive Book Reviews
Links Main Page
Contact the Coffee Coaster
RSS Feed
Coffee Coaster Blog
Most Recent Beaniegram (Newsletter) URL