"Percolations" is emailed as a newsletter to the list of Coffee Coaster subscribers. (Normally, this newsletter-ette is sent Wednesday night or Thursday mid-day.) Percolations usually begins with the movie review for the weekend, then opens a brief general whassup section. — bw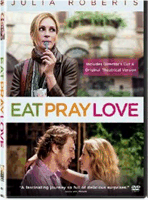 Excerpt of Review

Eat Pray Love (2010):
A unique womanly spiritual journey _ 7/10
First, Italy. Supposedly, at her divorce, as the bigger breadwinner, she gave Stephen 'everything.' Which fits with the medicine man's prophecy. But I'm not buying the life of poverty. Even though we're shown a spartan first room in Rome where she's going to be living, she's an excellent hobnobber, and for this wining and dining branch of the journey she picks up the check plenty of times. Her Italian friends are colorful. They are also full of insights on the zero-joy 'American materialism' condition and the 'Italian epicurean' solution. Great stuff. Totally blows American parochialism out of the water. And Liz succumbs to the pleasure, hence 'Eat.' [Full Review]
---
Guest Column
Dissing Ron Paul
How the media and the Wrong Right put him down
by Ron Burcham
The liberal media, MSNBC, CNN, NBC, CBS etc., (neo)-Conservative talk radio/TV; Limbaugh, Hannity, Levin, O'Reilly, Wallace, Medved, et al., have allied with establishment Republicans and are all trying to marginalize Ron Paul again just as they did in the 2008 election. If Ron Paul had gotten the nomination in 2008 he would have cleaned Obama's clock because he is not an Obama clone like McCain. McCain v Obama was Tweedle-dee v Tweedle-dum or watered down Fascism v Marxist Communism. Ron Paul would have upset the Washington, D.C. establishment and that couldn't be allowed to happen. Washington power and money is always number one with the establishment Democrats AND Republicans. America is never number one. [Full Column]
---
COFFEE COASTER WEEKLY PERKS
"To sin by silence when we should protest makes cowards out of men."
— Ella Wheeler Wilcox







MUST SEE:
Very Special Brasscheck TV broadcast: In conjunction with Prison Planet, Russell Means is featured in a 1:30 long presentation entitled "Russell Means: Welcome to the Reservation." What the Oligarchy is doing to us is what it's been doing to the American Indians from the beginning! I have never seen as thorough and incisive an analysis of what ails human society--particularly America--nor a judgment of what we need to do. Starting by enforcing the Constitution and taking away privileges of the money power. ABSOLUTELY A BLOCKBUSTER! If anyone knows how to get the DVD, please, please send me a note.

Russell is in the news from INN (Infowars Nightly News) again, and he is suffering from health issues. Please contribute through the referenced site or through this PayPal link shown as follows:
---
UN calls on Obama to Investigate and Prosecute U.S. Torture Charges
Wikileaks Documents Prove Torture, Abuse and Criminal Acts Were Systematic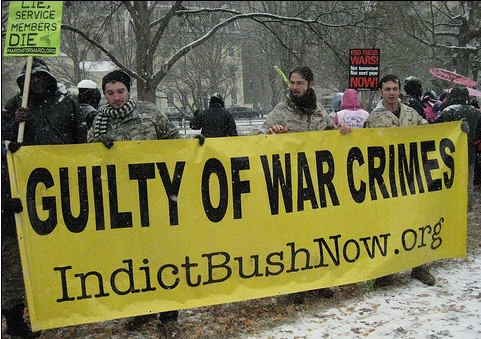 In the wake of the release of 400,000 documents by Wikileaks, the United Nations has called on U.S. President Barack Obama to order a full investigation of crimes committed against the Iraqi people following the invasion and occupation that was directed by George W. Bush, Dick Cheney and Donald Rumsfeld. UN special rapporteur on torture Manfred Nowak declared that the Obama administration has a legal and moral obligation to fully investigate credible claims of US forces' complicity in torture. Nick Clegg, the deputy Prime Minister in the UK has, in the wake of the recent revelations, also called for an investigation into the reports of mass torture disclosed in the newly released documents. Check out this extremely illuminating RT video outlining multiple horrendous crimes on the Iraqi people as US government policy. Then act!
Latest news from IndictBushNow.org: Protests are greeting Cheney at his book signings and preventing Bush from attending a Canadian university. Former FBI agent Coleen Rowley states: "Is it proper to honor this war criminal [Bush] who launched preemptive, unjustified wars of aggression and 'shock and awe' that led to hundreds of thousands of people killed, mostly civilian 'collateral damage' and widespread destruction in the Middle East?"
---
My personally adopted American political prisoner is Pete Hendrickson. He currently languishes in federal detention for crimes that are not crimes, for leading the freedom cause on taxes, respectively. Please help him financially and by getting out the word to end the federal Mob that would silence him.
---
Help Pete Hendrickson uphold the tax law on the federal government: Please check out Pete's latest letter above then a less recent one here: "Tax Truth from the Front: Timely clarity on income tax from Pete Hendrickson." You can branch off to other sites, but we must free Pete Hendrickson and liberate all the other political prisoners if we are to enjoy a benevolent, free society based on the Sacred Nonaggression Principle. Pete's recent News Release. Please distribute it widely among the media.
Please communicate with Pete by mail at:
Peter Hendrickson #15406-039,
P.O. Box 1000,
Milan FCI,
E. Arkona Rd.,
Milan, MI 48160
Then help with the financial end with his family going through an equal if not greater amount of stress from the federal mobsters. Please send donations to:
Peter or Doreen Hendrickson
232 Oriole Rd.
Commerce Twp.
Michigan 48382
---
Bernard von Nothaus facing many years
The VP (vicious prosecutocracy) is looking for upwards of 20
Bernard von NotHaus (BVNH), the convicted monetary architect of the Liberty Dollar now awaits sentencing. This is a very dangerous time. If the report prepared before sentencing is uncontested or poorly contested (as per the trail) BVNH could very likely spend the rest of his life in prison for introducing a value based currency, protecting the people's purchasing power and trying to return America to a sound and honest monetary system. Please don't let that happen. BVNH as secured a short term $20,000 loan and retained a sentencing attorney to defend him at the sentencing. But he needs to repay that loan very quickly. Would you please help?
Please click HERE to make an anonymous donation. Please note that although givv.org is set up for monthly donations, you can make a one-time donation of any amount.

Or send any donation of value, your check, money order made out to BERNARD and mailed to:
Bernard von NotHaus
527 N. Green River Road
Suite 158
Evansville. IN. 47715
Also write to Bernard c/o Editor@LibertyDollar.org.
---

---
Subscribe and Archive
About the Coffee Coaster
---
The Constitution of the United States asserts that all power is inherent in the people; that they may exercise it by themselves; that it is their right and duty to be at all times armed and that they are entitled to freedom of person, freedom of religion, freedom of property, and freedom of press. — Thomas Jefferson

Please send me your letters or comment thru access of the Coffee Coaster Blog.
---
Subscribe or Unsubscribe to Coffee Coaster Beaniegram
The Coffee Coaster Home Page
Archive Brian Wright Columns
Archive Guest Columns
Archive Movie Reviews
Archive Book Reviews
Links Main Page
Contact the Coffee Coaster
RSS Feed
Coffee Coaster Blog
Most Recent Beaniegram (Newsletter) URL