Welcome to the Church of Being
A religion embracing the SNaP as essential doctrine
by Brian Wright
---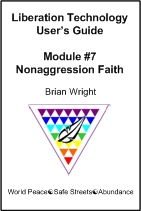 A month ago, I started a two-part column that ties a 'religion of nonaggression' to the SNaP modules I had already written. Today's column presents an excerpt from the final Module #7: Nonaggression Faith; this module, now available on Amazon.com, is the culmination of all my thinking on the Sacred Nonaggression Principle, incorporating that principle into a new 'intentional' 'religion.' The name of the system of belief is Beism, and its practitioners are Beists (vs. Beers :)). The name of the 'church' or belief-system institution for all people is the Church of Being (COB).[1]
---
The Coffee Coaster column, Joy of Being 1, discussed my thinking that led to the formation of a religion and church.[2] The Coffee Coaster column, Joy of Being 2, offered some analysis of the general requirements for any religion worth its salt. Let's repeat the question from the second column here. "Why?"
Why form a church... or even a "church?" (w/ quotes)
If the joy of being is accessible to a person individually, why form a church? I mean aside from its potential to accelerate a benevolent, abundant social system without coercion. The answer is: because people like to share their joy with one another, help one another in the struggles of life, and otherwise make time for 'worship' and celebration. Then in that Joy of Being 2 column, I continue with a sketch of how the general requirements for the Church are satisfied. From those requirements solutions, I grew the core creed and core doctrine. Some icon work was also accomplished.
Creed, Core Doctrine, and Symbol
Let's start with creed, because a simple statement or affirmation of belief leads naturally into the more descriptive and prescriptive content of the faith. Figure 1 shows the provisional creed for the Church of Being, also indicating the thought-and-spirit origin for each pillar of belief, giving the name of a principal modern proponent: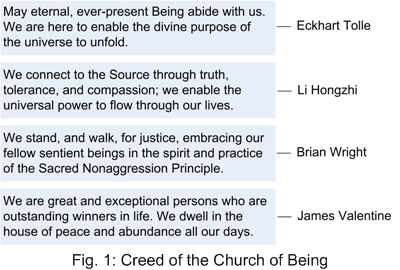 The idea is to keep the creed short and sweet, something that may be uttered in privacy or in the company of fellow 'worshipers.' But it shall also occasionally be appropriate to state in longer form what we Beists believe, so here is the longer form of the creed, which gives the essentials of Beist—perhaps I will use Be-er!—doctrine, especially in the realm of metaphysics, ethics, and politics:
We, members in good standing of the Church of Being, believe in the following truths of existence and principles of honorable conduct:
That Being—'all that exists,' the universe, everything considered as one—is absolute and eternal. It is the Source or foundation—beyond mental labels—of all reality, of all lives, and of all values.

That as human persons, we exist possessing consciousness, our means of a) apprehending what exists and satisfying the requirements of our material lives and b) having union with Being.

That our consciousnesses authorize, embrace, and enhance the use of natural reason to determine the truth of things and to solve the problems of material existence and achieve our fulfillment in the physical world.

That our consciousnesses embrace, draw in, and release the creative life-energy of the Source in coordination with natural reason to experience our wealth and abundance in ways that lead to true joy, peace, and spiritual fulfillment.

That we abandon all systems of aggression in society and withdraw our consent from coercive governments and their symbols and practice noncooperation the best we can.

That we oppose and disdain all systems of belief that hold at their base the violation of our rational informed consent by means of superstition, blind faith, and manipulation of primal psychology.

That we provide for our lives with honest effort to achieve material well being; we believe in joy, happiness, love, passion, progress, and prosperity… realizing inner peace all our days.
Finally, the early iconography. Figure 2 shows what I call my Rainbow Feather, which is an inverted pyramid suggesting the Church will be the opposite of Old Paradigm patriarchal systems of power and coercion.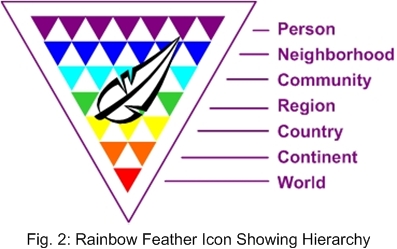 The feather idea comes from Russell Means, who used a lighter image on a T-Shirt that said "Freedom is For Everyone" in his 1987 campaign for the Libertarian Party presidential candidate nomination. In this system, the leaders are the ones at the bottom, supporting the individuals at the top.
Benefits
The fundamental thrust of Beism and the Church is spiritual growth, a felt connection with Being. [This is the Truth: Watching the Thinker side of the Rainbow Feather inverted pyramid.] But because of the Church's active support for the Sacred Nonaggression Principle and libertarian resistance to all coercive governments—esp. one's own—from the impartial observer, the COB will seem to be Extremely Activist. We're going to help the little guy fight the power in a monster way.
My initial idea in tribute to the showing of the Atlas Shrugged movie in a few weeks is to hold a Worldwide Strike of All Coercive Governments—in which funding and any other cooperation will be withheld by citizens until the government in questions stops all its aggressions. Okay so perhaps that doesn't seem to be a benefit to you, but it sure is to all those upon whom these many aggressions are perpetrated. The standard three benefits accruing to a practicing Beist, individually, are extraordinary 1) inner peace, 2) physical health, and 3) material abundance.
What's next?
Please read the book and comment for me on the Amazon.com page. You may grab a PDF copy of this most important module by clicking on the lower-right "download of PDF" link. A $1 donation is requested; it's worth it. Between now and next week, I'll write another column with more of a recruitment and capital-raising focus. The Church will have categories of membership, including a free one. For now, if you are interested in helping to found and/or get this church moving and/or just become a free member, please send me an email at church@brianrwright.com. In the odd chance you have money and would like to make a hugely rewarding investment in the future, you may use the PayPal form below to become a charter member... please send me a note, too.
---
[1] I prefer to spell out the acronym in speech, i.e. C-O-B, as opposed to just saying 'cob.'
[2] My stipulated definition of "religion:" an integrated system of belief in, reverence for, and practice of a supreme universal principle or idea, intended to bring spiritual fulfillment. My stipulated definition of "church" is a social organization and institution whose mission is the cultivation and humanitarian practice of a supreme universal principle or idea.
---
###
2011 March 21
Copyright © Brian Wright | The Coffee Coaster™
SNaP Religion | Church of Being | Power of Now | Barrier Cloud | Liberty