Graphically Rendered Stories, Careers, and Arguments
Part of my business operations is a craft I call storygraphing, which is a graphical summary (often with links connected to the graphics) of one's life, one's career (for resume purposes), or to lay out an argument with links. As the business grows, I won't be able to do all the artwork myself and will write a simple user's guide with instructions and reference to short videos to help the do-it-yourselfers (DIYers) out there. In the interim I may personally train individuals in the craft to provide the service.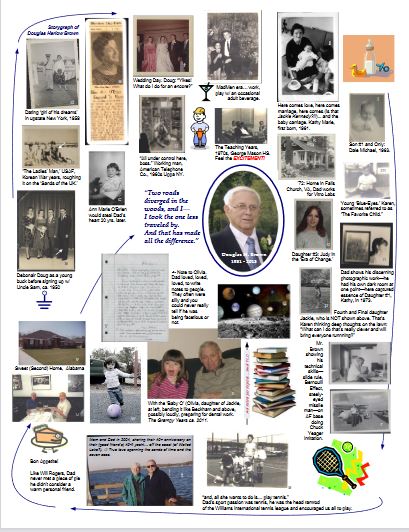 1) First off—and this is an especially fitting craft for my generation now approaching the Grand Exit Portal—the item shown is for a friend of mine, Doug Brown; his kids and I set a blown-up poster board sized version on an easel for his memorial service in 2013.
Note that when you open the pdf, most of the images give you a hyperlink to a place on the Web, or sometimes simply an enlarged view of the image. The key to making a successful memorial storygraph is consultation with family—in Doug's case it was his daughters, who typically have mementos of their special occasions in family events. The other key lies in the composer's ability to come up with enlivening and humorous phrasings to keep the story going.
So you may click on the image and the pdf for the storygraph of Doug Brown will be displayed. The functionality is fairly self-explanatory. Yours truly is currently "the artist in the house," and pricing currently is $25 per hour plus expenses. [The Doug Brown storygraph took roughly 15 hours.] A client receives the file for display from whatever folder he/she wishes to set up, whether with a memorial garden, funeral home, or simply for access by family and friends via ones own network, DropBox, or the like.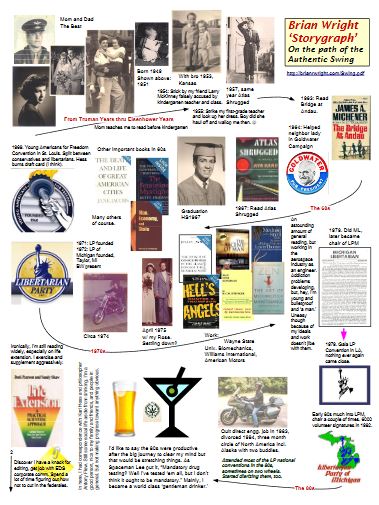 2) The second main use I've found for the storygraph is as a resumé. The tool is ideal for laying out visual elements, such as the books you've read, the companies you've worked for, key ideas you wish to emphasize. Of course, you can also enter text blocks to relay specific projects, milestones, tasks you've accomplished. One of the main advantages I see is that such a format is analog and thus not receptive to AI or digital computer regimentation.
It requires another actual real human being to go through your story. What you see on the right is my own two page life summary—it actually serves as a hybrid career resume and life story. It was last updated nearer to 2010 and I need to recompose some of the latter flows. Soon I'll show an actual, more conventionally oriented work resume and you can take it from there. These summaries are a bit easier than life stories, because it's straightforward to move from the work history data in a graphical manner.
I currently charge the same rate of $25/hour for storygraph resumes. The process for creating these I'll also document in my DIY materials for storygraph procedures in general. A resume per se will probably take roughly 10 hours to finish, assuming a clean copy of the former resume and client changes desired.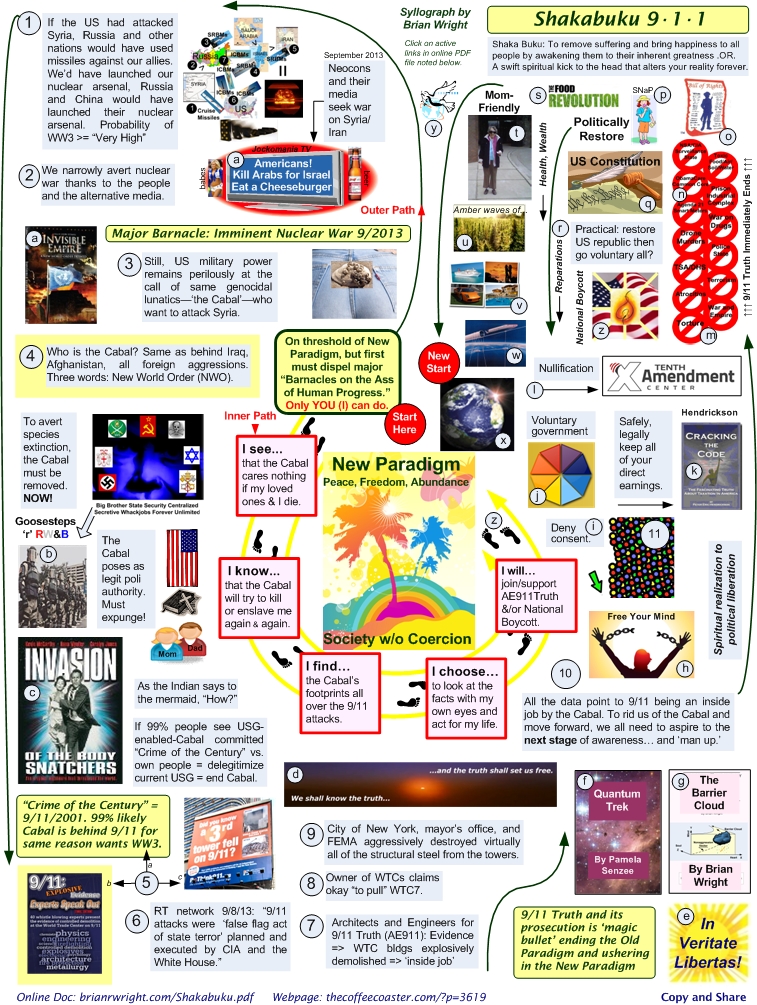 3) Finally, in the general category of graphical representation for a point of view or a general solution to a complex problem, the storygraph has a great deal of potential for profitable application. Consider that every sheet consists of graphic images and texts, which themselves can link to storygraphs of their own. It provides a three dimensional framework for homing in on a knotty issue.
These syllographs or cause/problem solving storygraphs can change the world. I've even thought of their use in describing—and nailing via indictment by people's independent First Principles' grand juries—interlocking systems and personnel in a terminally corrupt society, such as the current United States and globalist infrastructure from top to bottom. A good friend of mine has suffered enormously from such insidious and weed overgrowth in all facets of the Washtenaw County system of government.
The syllograph, such as this national one entitled Shakabuku I composed in 2013 to address the Obama intended aggression in Syria, is necessarily a collaborative effort among the artist, good independent journalists, and upright citizens seeking justice. The three dimensional capabilities enhance the process considerably to related corrupt and sleazy actors.
My other chief business operations are publishing prep for biographies and other subjects, including editing—low level and high level—and writing. Currently, I am using the Amazon KDP platform and will work with any publisher or catalog on which you wish to come up.