Brian Wright
Author and Publication Profile
Background………………………………………………………………………………………………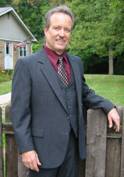 Mr. Wright was born in Kalamazoo, Michigan, in 1949. He grew up near Kansas City, then moved with his family to Oklahoma City in junior high. In a bookmobile he discovered seminal libertarian writings which led to his participation in the Goldwater campaign for president (1964). Later, moving to Detroit, in college—he acquired a BSME from Wayne State University in 1969—, he became a passionate voice for Ayn Rand's artistic vision of heroic individualism; in 1972 he led the founding of the Libertarian Party of Michigan (LPM).
For the next three decades, Brian engaged in public speaking, writing, and other activities to promote reason and liberty. [In the turbulent 70s, the secret Michigan State Police 'Red Squad' compiled a file on Wright, describing a lecture he delivered on anarchy.(!)] He chaired the LPM several times, served as its newsletter editor, and ran for state representative (1982), secretary of state (1986), and US Congress (1994) on the Libertarian ticket. [In 1992, Michigan drug police raided Brian's apartment in Oakland County, resulting, seven years later, in a felony conviction for growing less than an ounce of marijuana in a Phototron; this assault by the War on Drugs inspired his migration to the Free State in 2004.]
From 2002 to present, Brian has embarked on a course of more direct action toward achieving political freedom, letting go of exclusively seeking liberty thru actions premised on the American (or other) nation-state. He's become increasingly and naturally spiritual in his approach. Jason Sorens' Free State concept furnished a catalyst both for positive geographic change and for igniting Brian's literary output, in book and Web forms, the description of which follows:
Brian Wright's Books and Website
Brian Wright's books are posted on the site deaggress.org, where they are available as PDF downloads and have references to publishers for purchase. This profile sheet documents the books individually.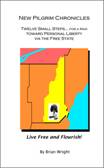 Wright's #1 Free State work is New Pilgrim Chronicles. It is an early look at the activists who started out and were the earliest of early movers… following the first Porcfest in 2004 and then #2 in 2005, both of which Wright attended. NPC follows his entering the Free State, settling in New Boston, taking part in the various activities and groups that were forming—e.g. the Manchester Porcupines, NHLA, antiwar vigils, Matt Simon's NH Common Sense—then recording those experiences. NPC has a writeup of the early ones (with native activists) successfully fighting the initial NH smoking ban. Increasingly, NPC is becoming an historical document, the only panegyric to capture so many of the key people and seminal work (and play) of 2004 thru 2006, Free State on the Ground, USA.
Don't Throw Mama off the Turnpike (deaggress.org#11)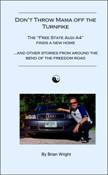 Another work related directly to the Free State experience came in 2009, when Wright had actually returned to Michigan for a while because of a need to care for his ailing mother. A book that came from that period is more a humor and travel work, where he had to sell his 'Free State' Audi. Don't Throw Mama off the Turnpike includes four narratives of memorable human events: a) main story of travel to Syracuse, NY, to sell his 'Free State' Audi (with Mom as 'wing man'), b) early victory over anti-smoking forces in the Free State, c) wayback, the Libertarian Party convention 1987 where Ron Paul was nominated for Prez over Russell Means, and d) a personal Woodward Dream Cruise experience in the Motor City.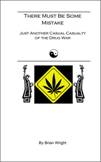 As noted in the background info, Wright had a run-in with the 'law' for modestly defying drug prohibition (and gun laws). The content of his 2008 monograph of protest, There Must Be Some Mistake, was actually composed at the turn of the century, and this negative encounter with psychotic and sadistic law enforcement systems hastened Brian's pilgrimage to the Free State. From the book jacket: "A cross between Forrest Gump and Midnight Express, Some Mistake is a short take on what can happen when one takes the drug prohibition laws too casually. It will have you laughing in recognition and railing in outrage. In any case your blood will quicken; highly stimulating impulse for ending the War on Drugs/Liberty."
Sacred Nonaggression Principle (deaggress.org#8)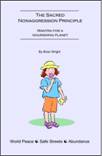 When Brian first arrived in the Free State he felt a difference 'in the air:' general personal freedom. Free, certainly relative to Michigan, which he refers to—along with most other states—as the VAW (Vast Authoritarian Wasteland). Sitting around the campfires of Porcfest 2005, it occurred to Brian that the simple nonaggression principle (which truly defines liberty) was always 'sucking hind tit' beside other moral, touchy-feely qualities that people seek in society… such as taking care of others, militarily attacking 'bad' countries, or rescuing struggling international banks. So he came up with the notion of elevating the nonaggression principle to the highest moral standard in social systems.
Hence, the book title, the Sacred Nonaggression Principle (SNaP)—using sacred in a secular way to mean 'most exalted or precious.' The SNaP book is Mr. Wright's political magnum opus. Not only does Wright elevate the concept of nonaggression, he fully describes it… along with laying down a clean system for understanding the origins of legitimized aggression historically and proposing workable strategies and technologies for reaching a worldwide society without aggression.
SNaP Modules
The key concepts in the SNaP are quite simple—from the so-called Kindergarten Rules (don't hit, don't steal, don't lie) to the 'Good Joe Premise' (on a personal level most people are inclined not to aggress upon others). But many people are not accustomed to handling more than a few new concepts at a time. So to aid in understanding, Brian has produced, along SNaP chapter boundaries, seven smaller SNaP modules:
The deaggress.org links then refer to the Amazon links for purchase. Each module is 28 pages long. Ideal for bright children and obstinate adults. J
Foreground—Book in progress

Extending the ideas of Module #7: Nonaggression Faith, in 2011, Brian began to develop a natural-rational-spiritual philosophy that incorporates the SNaP as a core tenet. He has rolled out the basics of this 'religion' in a three-fold brochure entitled the FLOW Fellowship, and he intends to present the FLOW philosophy/religion in viewfoil by July 1, 2012—followed by a full elaboration of same by October 1, 2012. Truth, tolerance, compassion: coming to a neighborhood near you!
The Coffee Coaster—Realtime opinion and reviews

For more than five years, Mr. Wright has been proprietor of TheCoffeeCoaster.com, a 'wholistic libertarian' opinion and (movie and book) review site. His writing—and that of many of his guest writers—comes mostly from a reasonable 'libertarian' humanitarian
perspective, that is, as a (world) citizen-intellectual who has a) appreciated Ayn Rand, b) broke sweat for liberty, and c) become a 'person in full'… increasingly, he hopes, with a sense of humor. For example, here's a parody of the media coverage of Ron Paul Campaign 2012.