Special odd-cute movie on teen pregnancy (8.5/10)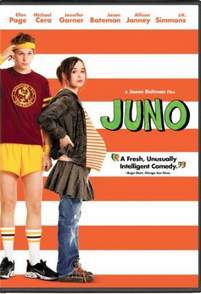 This is one of those movies you can't say too much about without giving away what's meaningful and what happens.  That being said, let's start with the setup: Juno MacGuff (Ellen Page) is 16 years old and in a moment of curiosity decides it would be good to check out the sexual intercourse experience with her similarly artistic, offbeat, low-key, precocious boyfriend Paulie Bleeker (Michael Cera).  We're somewhere in Seattle-land, and I read that the movie was filmed near Vancouver, BC, Canada. [What is it with the movie industry making so many movies up there?  Do they get cheap motel rates?]
Of course, she really does like the boy and she's smart enough to know that sex without protection can lead to pregnancy, but for some reason the biological consequences of her curiosity in these matters do not occur to her.  The beginning scenes are filled with Juno in the process of discovery and in the process of distributing the awareness of her condition to friends and family.
To say that the people in Juno's universe are offbeat is an understatement: her dad is a former Army grunt who develops a passion for heating and air conditioning, her mother abandoned them when Juno was 5 and moved into a cheap trailer park in the desert with her new husband (and sends Juno a cactus plant every year on Valentine's Day), her step mother (Allison Janney) loves dogs and they've named her half sister Liberty Bell.  The lion's share of the fun of watching this film-small is listening to the dialog between Juno and all her quirky favorites.
Ellen Page … Juno MacGuff
Michael Cera … Paulie Bleeker
Jennifer Garner … Vanessa Loring
Jason Bateman … Mark Loring
Allison Janney … Bren MacGuff
J.K. Simmons … Mac MacGuff
Olivia Thirlby … Leah
In that regard—the witty conversational flow and leading-edge teen slanguage—I'm reminded of Clueless (1995), a great movie on the trials and tribulations of Valley Girls… but which didn't really broach any truly serious issues.  In Clueless the writing was first-class clever, and the acting equal to the screenplay.  Juno probably goes Clueless one or two better in both categories.  Clearly, Ellen Page earns her Academy Award nomination.  You can go to the IMDb page for most of the great quotes, but here are a few exchanges I really enjoy:
Su-Chin: I'm having a little trouble concentrating.
Juno MacGuff: Oh well I could sell you some of my Adderall if you want.
Su-Chin: No thanks, I'm off pills.
Juno MacGuff: That's a wise choice because I knew this girl who like had this crazy freak out because she took too many behavioral meds at once and she like ripped off her clothes, and dove into the fountain at Ridgedale Mall and was like, "Blah I am a Kracken from the sea!"
Su-Chin: I heard that was you.
Juno MacGuff: My dad had this weird obsession with Roman or Greek mythology or something and he decided to name me after Zeus' wife.
Mark Loring: Zeus' wife?
Juno MacGuff: Yeah and I mean Zeus had tons of lays but I'm pretty sure Juno was his only wife. And apparently she was supposed to be super beautiful but really mean, like Diana Ross.
Juno MacGuff: Ick! I don't want to give my baby to a couple who describes themselves as "wholesome."  I want something a little edgier.  I was looking for, maybe, a thirty-something graphic designer with a cool Asian girlfriend who kicks ass on the bass guitar, but I don't know, I don't wanna get too particular.
###
As with the truly great movies and miniseries, the magic coming off the celluloid at you is caused by the imagination of the writer(s). In this case, Diablo Cody, an attractive young woman for whom Juno is her first big splash.  I just have to believe—and the movie Waitress comes to mind here—that the writer and the principal character in the movie have a lot of life experience in common.
But what also leaps off the screen is the intelligence of a cosmic sense of humor.  For example, one of the recurring annoyances to Juno in her journeys through considering to abort, discussing her predicament with counselors and her parents—we also some chat from Juno's girlfriend Leah (Olivia Thirlby) about what Leah's mother says—and just generally in the culture is: the suggestion "we didn't know you were sexually active."  Juno disdains the notion that being sexually active as a teenager is regarded by society as somehow unnatural or remarkable, especially when no one who uses the term seems to be honest about it.  Indeed, we come to see that "sexually active" serves as a euphemism for getting knocked up.
Juno is a teenager with an old soul, yet she realizes all the worldly knowledge and humor she can muster are mostly a defense mechanism against having to face this consequence of choices in her real young life.  Page does a wonderful job conveying her growth into adult responsibility through the entire process.   The movie isn't trying to teach us anything, but it subtly reveals the morality of "time, love and tenderness" in dealing with the problem of teenage pregnancy, or with any general problems we all face.  Juno is surrounded by loved ones who have a surplus of TLC, something she certainly reciprocates with.  For a lot of young women going through an experience like this the journey can be much rougher.
One of the options Juno considers is actually having the baby then offering it to a suitable childless couple.  She and Leah look through some ads in the PennySaver supermarket newspaper under "Desperately Seeking Spawn."  The decision-making process is, as most of the activity in the movie, rather comical: Juno picks the Lorings (Justin Bateman and Jennifer Garner).  I was impressed with Garner's acting range; you can't imagine a sweeter woman truly wanting to be a mother above all else.  Not a maudlin moment.
Another movie that I can't help but thinking of as parallel to Juno is Saved, which takes a look at an unintended pregnancy by a girl who's only trying to do the right thing.  Anyway, I can't imagine too many people not adoring Juno.  It's quick and bright, funny and kindhearted.  It's all about love, and makes you want to be nice to people in general.
This post has been read 740 times!