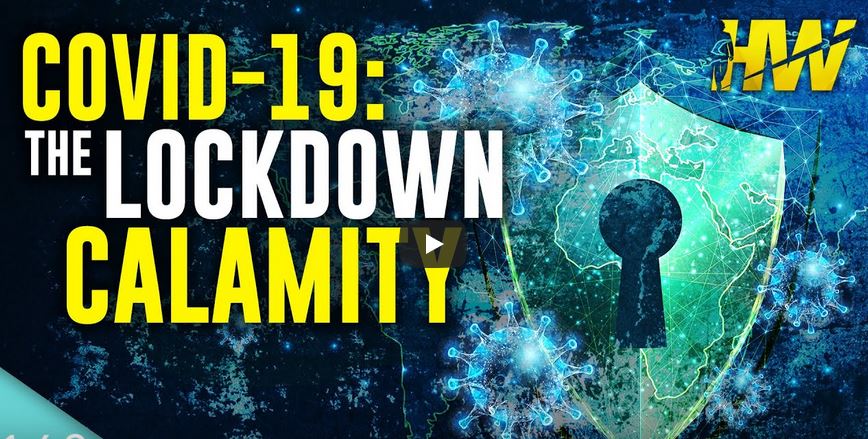 What follows is a summary of key points from a recent broadcast of The HighWire by Del Bigtree. I cannot recommend strongly enough that we all abandon the Pharma-mainstream media and learn the facts about CV from HighWire and other solid alternative sources.[1]
I'm also going to provide links to other key sites and pages that have come to my attention since the 4/23 livestream [I believe this one is up (so far) on YouTube], along with some discussion.[2] The "Corona World Order (CWO)"—I thank James Corbett for that designation—and the people's resistance to it ARE THE most crucial issue of our day… and the crisis is unfolding as we speak. It's quite simple: If CWO is sustained, independent humanity as we know it ends. If we defeat it, the Independents [http://bit.ly/2rdIJ9Q_Truman_Prophecy_Print] survive, but we still have our work cut out for us.
People should not be afraid of their governments
Governments should be afraid of their people — V
1) Recent CV deaths/cases studies dictate IMMEDIATE END to global shutdown
[More such studies from respected establishment institutions are in the pipeline.] Two randomized studies and a study-informed model have been submitted to peer review (and the USC one reported via mainstream via the 4/21 presidential task force briefing):
USC and LA County Public Health, LA County–CV infection rate 28-50 times higher than currently accepted number [John Roberts, Fox News, who has just heard of the USC study was caught on hot mic, someone asks if it's the 'h' (hoax) word, Roberts says no, he doesn't think it's a hoax only that the CV death rate is on order of a low average flu season (0.1 to 0.2%), then asks prez adviser Birx about the study's implications, she dodges question (https://bit.ly/2Y44yLB_Open_Mic_Coverup_John_Roberts)].
Stanford University, Santa Clara County–infection rate 50-85 times higher than currently accepted number.
Private Company, CodonCode, Massachusetts–model and data show infection rate 50-100 times higher than currently accepted number.
Implication: The true infection number when extrapolated and compared to the whole US population and (CDC-explicitly OVERREPORTED) numbers of covid cases and deaths is that CV deaths per cases = 0.11% to 0.22%, NOT the 4.3% ratio that the CDC has been using. [Flu average = 0.13%. Bad flu e.g. 2017-2018 = 0.5%.] US Senator Rand Paul speaks to these new studies and facts on the US Senate floor. Interview with Minnesota state senator Dr. Scott Jensen, who similarly confirms return to full commerce as immediately imperative.
2) On an unexpected First Principles' note…
…US Attorney General Barr is actually threatening to use the Constitution to force states to back down on draconian restrictions, especially on commerce. With a focus on religious services, too. Case of Mississippi church ticketed for drive-in services, Justice Department has joined suit on behalf of the church to defend its 1st Amendment guarantees of freedom of religion.
Note: The governments of the various states, much less individual governors, have absolutely NO AUTHORITY to declare and impose by force ANY emergency measures that conflict with the rights spelled out in the Declaration (First Principles) or their legal manifestation in the US Constitution. LEGALLY, THESE EDICTS ARE NULL AND VOID… plus there's a working cure (https://losthorizons.com/THS.htm#7). We all have the right to, and should, defy them en masse.
"The Constitution of the United States is a law for rulers and people, equally in war and in peace, and covers with the shield of its protection all classes of men, at all times and under all circumstances.
No doctrine involving more pernicious consequences was ever invented by the wit of man than that any of its provisions can be suspended during any of
the great exigencies of government."
— US Supreme Court, Ex parte Milligan, 71 U.S. 2 (1866)
(Unanimous decision)
3) Snitch-reward laws backfiring…
Snitch laws–where citizens can get rewards for telling authorities of distancing violations–pushed in California governor Gavin Newsom and by NY mayor Bill de Blasio. In latter case, email and text flooding with dick pictures and Hitler memes. Americans are largely falling in line to follow government unconstitutional orders, but apparently many are not comfortable being commie rats on their neighbors… yet.
4) Some noteworthy incentives and scary practices
Financial incentives for covid: $13,000 goes to hospital for diagnosing a case (vs. $5,000 for a normal pneumonia); $39,000 for putting a covid patient on a ventilator. Hospitals in Minnesota are losing $31 million a month; many are going out of business. Dropoffs of visits to ER for heart attack and stroke are 33-50%, people are dying at home. No organ transplants. No bone replacements. The state of New York is telling EMTs NOT to attempt to resuscitate if they can't find a pulse! Did you hear that on your Six O'Clock News?
5) More costs of mass quarantine and shutdown
UN report warns that continued shutdown will "kill hundreds of thousands of children in 2020, worldwide… and add 42 to 66 million children to rolls of those in extreme poverty." American jobless number up an additional 4.4 million making the five-week total 26 million. Food lines in America stretch to thousands vehicles in many cases, people waiting in line for 10 hours or more. From Brenner—reported in a previous HighWire installment—every 1% increase in sustained unemployment leads to 58,000 Americans dying in the next five years.
6) Cures for covid continue to be suppressed
Hydroxychloroquine (HCQ) continues to be effective CV cure worldwide, from the US to Uganda. The results reported by Steve Smith a few weeks ago are representative (https://bit.ly/2UGFZC4_HCQ_is_GameChanger). The French study using HCQ and azithromycin has been repeated with comparable success. The NIH itself did a study in 2005 showing that HCQ had promise for treating SARS. If the NIH knew that HCQ was a likely fix for CV, what is its criminal culpability for the CV deaths of thousands?
7) Why haven't public health authorities encouraged other proven treatments?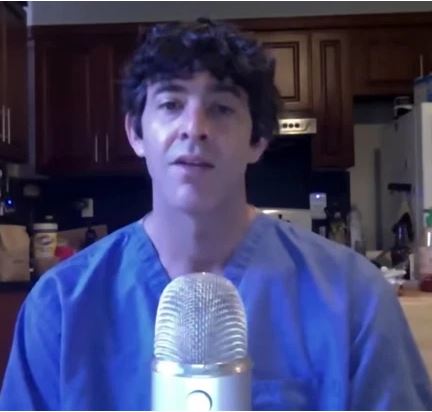 New guidelines issued finally by NIH to prevent ventilator deaths by incorrect treatment protocol—80% of patients sent to ventilators were dying. Dr. Cameron Kyle-Sidell of Brooklyn, NY (https://bit.ly/3c9mnMK_High_Wire_News_20200409), was whistleblower who brought out the facts. Facebook censored the Kyle-Sidell story, now what? Censorship is contributing to deaths of many covids by stalling access to HCQ, holistic remedies (http://bit.ly/3aZ2Nm8_Dr_Brownstein_CoV_Regimen), and other field-proven cures.
So the cat is out of the bag. The nuts are off the buggy. Chickens coming home to roost. Say it how you will. Plenty of egg to be found on faces among the medical bigwig-quibblers like Anthony Fauci, Deborah Birx, and vaccine-unicorn-pusher, global-totalitarian-junkie Bill Gates. No more hiding of preplanned crimes behind specious medical models and simulations gone live.
The best thing they can do is fess up. Make the public statement that they all made a mastodon-sized doozie—Dr. Ron Paul, Dr. Rand Paul's pop, gives them the out in his column: "What if the Lockdown Was All a Big Mistake (https://bit.ly/2Ks94LO_Ron_Paul_Lockdown_Mistake)?!" Which of course lets the real culprits off the hook as far as I'm concerned… but I can let it go, so long as the people never cave in like this again.
Note: Please support The HighWire by donating to its parent, Informed Consent Action Network (ICAN)(https://www.icandecide.org/support-ican/), which is struggling on a shoestring.[3] We the people desperately need a source of journalistic FACTS we can trust, more than ever, rather than this daily grinding—like the Groundhog Day movie Del mentions—of mainstream-government-media headlines and manufactured perceptions via the Pharma Death Star.
[1] Here are the links to the more recent HighWire broadcasts on covid and lockdown:
https://bit.ly/3fBhVI3_High_Wire_News_20200806
Rallies Erupt Across Europe; Dr. Scott Jensen Exonerated; Frontline Doc Speaks Out; 'Emergency Use' Scaring Pro-Vaxxers; Sweden Keeps Proving They're Right.
https://bit.ly/33drVot_High_Wire_News_20200730
THE CYBER ATTACK ON TRUTH Deleted by YouTube; Frontline Doctor's Go Viral, Get Censored; Do the #HCQDance!; Vexing Vaccine Trial Results Join us @ TheHighWire.com/watch/ #HighWireCyberAttack #DelBigtree #AttackOnTruth #Health #Covid19
https://bit.ly/33drVot_High_Wire_News_20200730
THE CYBER ATTACK ON TRUTH Deleted by YouTube; Frontline Doctor's Go Viral, Get Censored; Do the #HCQDance!; Vexing Vaccine Trial Results Join us @ TheHighWire.com/watch/ #HighWireCyberAttack #DelBigtree #AttackOnTruth #Health #Covid19
https://bit.ly/3hBDbyM_High_Wire_News_20200723
THE COVID-19 EXIT STRATEGY MN State Senator Under Fire; Covid Collapse in the U.S.?; Have you Herd? A Messy Message from Del; Biostatistician, Knut Wittkowski Has an Exit Strategy #COVEXIT #COVID-19 #HerdImmunity #ExitStrategy #DelGetsMessy
https://bit.ly/3fLlYme_High_Wire_News_20200716
Interview with Andrew Kaufman, Project VCTR, Leigh Allyn-Baker, Andrew Wakefield and his new movie, 1986, The Act.
https://bit.ly/2WBaha1_High_Wire_News_20200709
Forgery and Fraud at the CDC, Judy Zimmerman and Mark Blaxill: how the CDC denies the autism epidemic, Pete Evans a major celebrity paleo author and chef in Australia who came out against vaccines.
https://bit.ly/2NSGcOA_High_Wire_News_20200702
COVID CRIMES AGAINST HUMANITY? John Ziegler Goes Viral Over Lockdown; CA Mayor Defies Newsom Mask Order; Dr. Zelenko's HCQ Protocol Saving Lives; Kids & Masks: Are They Safe?; ICAN Sues NIH…Again! #CovidCrimes #Heatlh #Ziegler #ZelenkoProtocol
https://bit.ly/2A3r6Cn_High_Wire_News_20200625
WHEN SCIENCE CRIES WOLF Fauci's Big Fib; Bayer Fined $10B; Was the US Spike in Deaths Fueled by Panic?; We're Not Masking Around; Racial Health Equality; Big Pharma's Shiny New Toy #Panicdemic #DeathByPanic #COVID19 #MasksWork ? #TheoWilson
https://bit.ly/2UZ2xOm_High_Wire_News_20200618
DEADLY DOSES Deadly Attempts to Discredit HCQ?; Fluoride on Trial; Why Most of Us May Not Get #Covid19; Offit an Anti-Vaxxer?; Parents Win in New York. #DeadlyDoses #NYWin #NYSBA #Covid19 #FDAHCQ #HCQTrialScandal #TexasCovid #OperationWarpSpeed
https://bit.ly/2zs1lvf_High_Wire_News_20200611
UNDERCOVER NURSE EXPOSES COVID CATASTROPHE WHO flip flops…AGAIN?!; Thousands Protest in Colorado; Covid-19 Nurse Whistleblower Bombshell; Vax Vs. UnVaxxed Study; Vaxxed Bus Down Under #Vaxxed #Vaxxed2 #NurseWhistleblower #WHO #SB163 #Health
https://bit.ly/2Ugdcnk__High_Wire_News_20200604
CROSSING THE DIVIDE A discussion too honest for MSM with Dr. Rachael Ross, NJ Asm. Jamel Holley & Rizza Islam; Jaxen Report on alarming #HCQ discovery; Dr. Rashid Buttar combats censorship; Celebrity Chef Pete Evans' media attack down under.
https://bit.ly/3cfqAOP_High_Wire_News_20200528
THE WEEK WE SHOULD HAVE OPENED New CDC Data Reveals #America Should Be Open; Del Bursts #Covid 's Bubble; Doctors Breggin, Nue, and Tenpenny call in; Facebook Retreats! #TheHighWire #DelsBubble #OpenAmerica #Coronavirus
https://bit.ly/2ZszJR9_High_Wire_News_20200521
DEBATING CORONA-PHOBIA HighWire's Gone Viral; #Top10 Reasons Del's not on Team Corona-Phobia; Del Debates Alan Dershowitz on a 'Mandatory #Covid Vaccination'. #TheHighWire #Top10 #CoronaPhobia #DelvsDersh #DershowitzDebate #Covid19 #Coronavirus
https://bit.ly/2zLW5lR_High_Wire_News_20200514
CORONAVIRUS UNMASKED CA is Backpedaling; #ContactTracing concerns, NJ Asm. Jamel Holley weighs in; A tale of Two Senate Hearings; Real Science on Masks, with Immunologist Dolores Cahill, PhD. #DocsVsOfficials #Covid19 #MaskShaming #Covid19
https://bit.ly/3dwris1_HighWire_News_20200507


Doctors, nurses, scientists, police, and a celeb democrat, speak out; Dr. Zach Bush reveals why

#Covid

-19 is here, and how we come out of this a better people.

#Coronavirus #Health #Immunity #ZachBushMD
https://bit.ly/2YkreY0_High_Wire_News_20200430
A NATION DIVIDED A Virus with a Political Bias?; New York's Tragic Missteps; Chloroquine vs. Remdesivir; W.H.O-Tube; Pharma Owns TV Docs? #Coronavirus #Lockdown #ReOpenAmerica #Covid19 #SocialDistancing #HerdImmunity.
https://bit.ly/2KwoSNr_High_Wire_News_20200423
As stated in column, the new studies showing deaths from CV are equivalent to ordinary flu, states going back to work, suppressed cures, lockdown calamity.
https://bit.ly/2xDyvHq_High_Wire_News_20200416
LOCKDOWN SHOWDOWN Protests erupt across the world protesting Lockdown; Fauci In hot water; HW Special Report from Sweden; Doctors successfully treating Covid-19. #Coronavirus #Covid19 #Quarantine
https://bit.ly/3c9mnMK_High_Wire_News_20200409
BLOWING THE WHISTLE ON COVID-19 Dr. Cameron Kyle-Sidell on the inappropriate protocol for his ICU patients, cautioning that they were lacking oxygen… suggests radiation and/or 5G component in cases? Dr. Knut Wittkowski on epidemiology math. Dr. Anthony Cardillo on HCQ major efficacy.
#Covid19 #VaccineUnicorn #Ventilators
https://bit.ly/2wOfLVp_High_Wire_News_20200402
DATA OR DECEIT? : THE COVID-19 PEAK As the U.S. shutdown continues, Americans are divided. Is the panic surrounding death rates justified, or is it blown out of proportion? The only way to answer this question is to dig into the real numbers. Open letter from Dr. Sucharit Bhakdi to German PM "with not from"
https://bit.ly/2QNii8Z_High_Wire_News_20200326
TRUMP VS FAUCI: BATTLE OF AGENDAS While fear and uncertainty spread across the globe, The HighWire exposes a battle of agendas raging at our highest levels of government. What will the cost be for #America? #Coronavirus #Covid19 #Trump Dr. Toby Rogers on cost of quarantine. My Patreon (https://www.patreon.com/posts/35372292)
https://bit.ly/3djLnCs_High_Wire_News_20200319
CORONAVIRUS QUARANTINE Does the data dictate putting America in Quarantine? What's the real death rate of Coronavirus? What will end this unprecedented lockdown? Del has two very important questions for the U.S. government, and for you.
https://bit.ly/2IETg7l_High_Wire_News_20200312
Coronavirus, four fresh angles. 1) Normalizing Chinese-like lockdowns, 2) The coming (mandatory) vaccine, 3) Global economic impact, 4) Unknown virus origin.
Other sources I've found that are top notch are Jon Rappoport's nomorefakenews.com and anything written by Whitney Webb (https://www.patreon.com/whitneywebbmpn/posts)… though she's not focusing on covid so much. She's very good on the connections between political leaders of the West and their Mossad/CIA handlers, particularly the child molestation/trafficking blackmail network run via Jeffrey Epstein (http://bit.ly/2kf5gUJ_The_Epstein_Trails).
[3] Just a note dealing with commonplace logical fallacies cropping up to lead minds astray so easily… I was going to make a note about the ad hominem fallacy being applied to the Del Bigtree HighWire work (by a colleague in the 911 Truth milieu whom I generally respect). But I won't elaborate except to state that rational argument is not about "the who," rather about "the what," of the data and propositions. We cannot afford to sacrifice progress toward the truth at this critical juncture on account of having a perceptual-emotional DISLIKE for a proponent… or, even the contrary, having a LIKE for a proponent.
This post has been read 731 times!