Demand justice for those who perished on 9/11/2001
by Michael Atkinson (IAmtheFaceofTruth.com)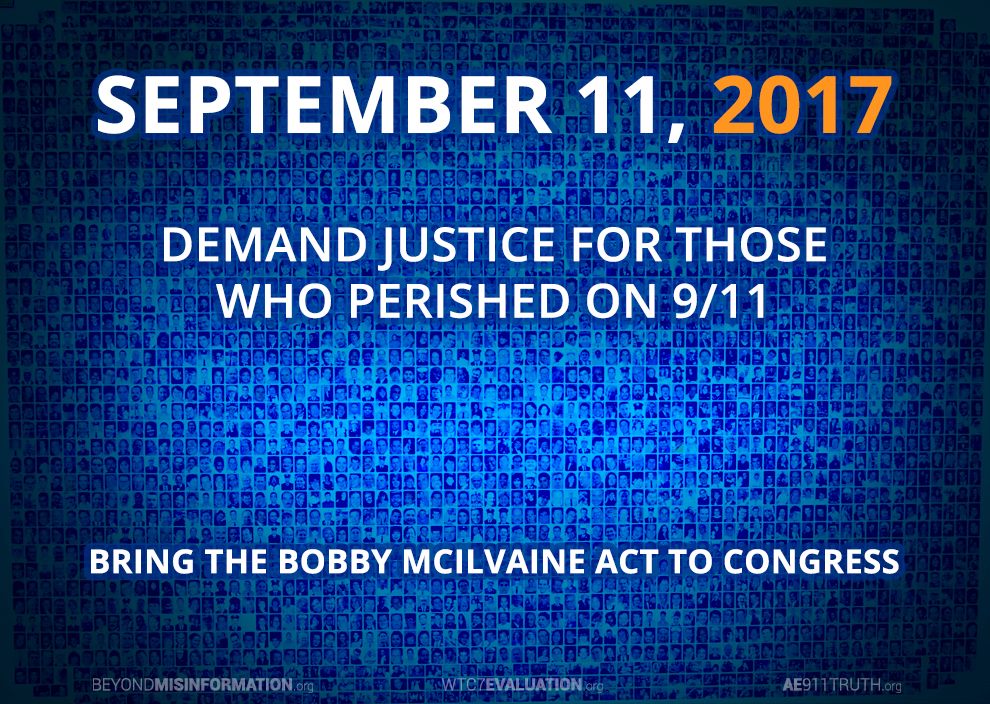 The Bobby McIlvaine Act September 11th 2017 News Conference
https://youtu.be/woO1UIrkfuY
National Press Club Website:
http://www.press.org/events/bobby-mcilvaine-world-trade-center-investigation-act
Legislation for 9/11 Truth – Use this handy email program below to send a pre-written letter to your congressperson and senators urging them to support the Bobby McIlvaine Act. https://beta.ae911truth.org/get-involved/bobby-mcilvaine-act
Editor's note: This guest column is a repackaging of Michael's excellent assemblage of key events and news from the all important 9/11 truth front. If we get one indictment by a First Principles' grand jury of even one (of the several dozen) insider suspects of the crime of 9/11, it will bring a cascade of truth and justice events to all humanity.
Timely Important Truth News
"WTC 7 Did Not Collapse from Fire" – Dr. Leroy Hulsey, UAF, Sept. 6, 2017
A Structural Reevaluation of the Collapse of World Trade Center 7
WTC 7 Evaluation
===
===
===
===
===
===
Pilots for 9/11 Truth
===
===
===
The anthrax "attacks" soon after 9-11-01 were also a scam.
The Ultimate Guide To Vaccine Information, Anti-Pharma News, and More
===
===
Beyond Misinformation
Stand for 9-11 Truth – A Government Researcher Speaks Out
===
​
===
Lew A. Welge for 9-11 Truth
===
Ken O' Keefe for 9-11 Truth
===
Claudio Marty of IamTheFaceOfTruth wrote this about the "Truth Troubadour" CD: "Vic Sadot is one of the most passionate & committed advocates for 9/11 truth there is. His passion resonates in his music with heart & soul. We love you "REAL LIFE ACTION HERO!"
Vic Sadot for 9-11 Truth
===
Let us create a 9-11 Truth awareness banner for you and help us show unity and spread awareness.
We have a "9/11 Posts Only" group for 9-11 Truth education and a "General Truth News" group for everything else. Truth up!
Save
Save
Save
Save
This post has been read 1507 times!