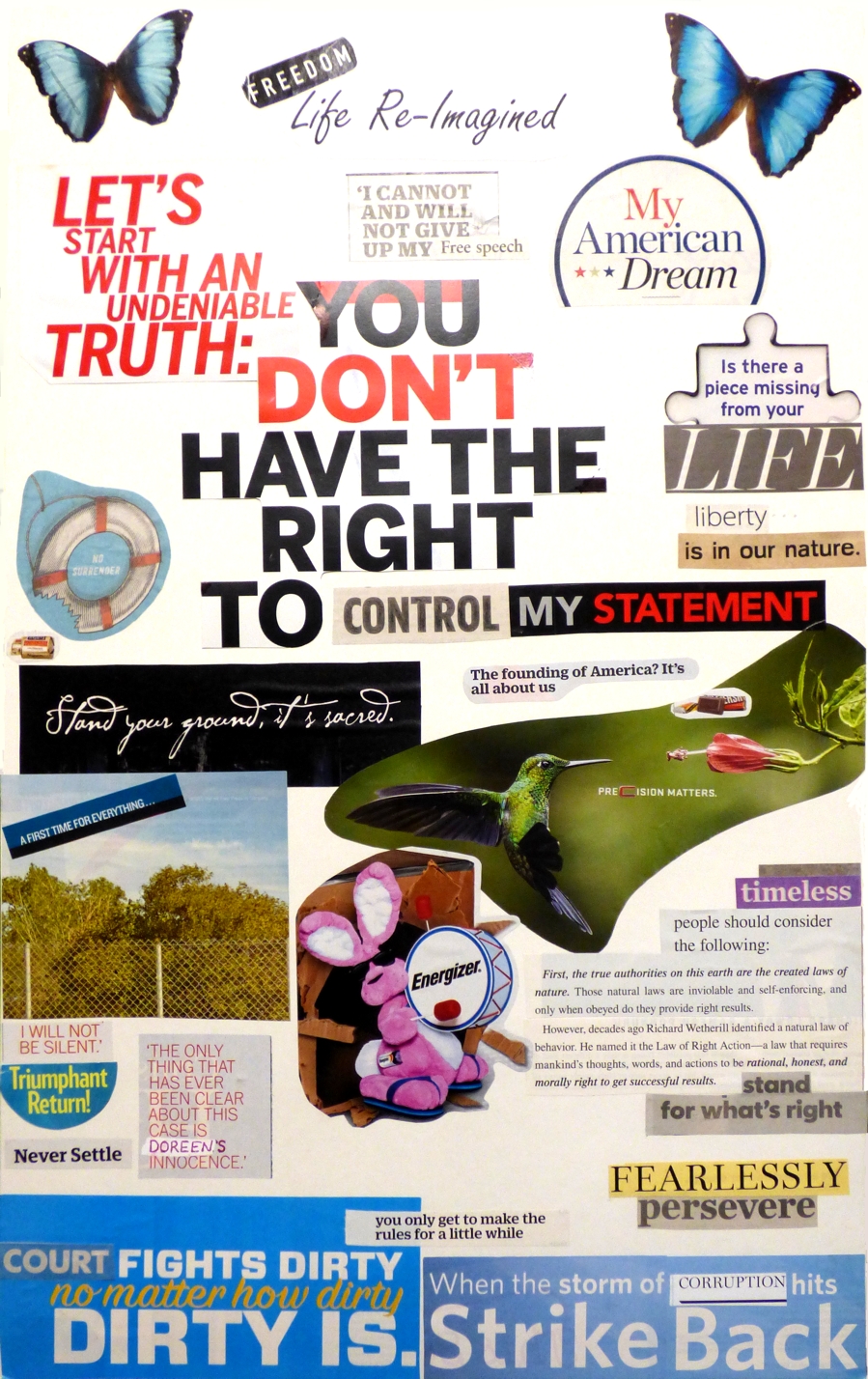 "A free people claim their rights as derived from the laws of nature, and not as the gift of their chief magistrate" — Thomas Jefferson
Collage by Doreen while caged earlier =>
Folks, it looks like Doreen is going back in to finish her 'term.' Surrender date is January 29, 2018. Please find two excellent explanatory, inspiring posts by loving husband Peter here:
As you all know, Doreen's story warrants a Pulitzer Prize winner to be writing it and spreading the truth about her unlawful and unconstitutional pro/persecution… and exposing the lies of the Ignorance Tax scheme… a scheme that is crumbling before our eyes. [Ref. Pete's outstanding column, item 2) above.] All funds raised go straight to Pete and Doreen.
My understanding is she will be having the same address and you can contribute to her supplies fund, when the time comes. I'll post another update with that information at that point. The Doreen Relief fundraiser is here: http://gofundme.com/DoreenRelief.
I don't have to tell you that nothing changes out here on the CtC warrior front lines, most of us wouldn't know how to go back to filing Ignorant, even if we wanted to.
The light is definitely at the end of the tunnel, as the level of corruption at the top levels in the agency and at the DOJ goes "intravenous heading toward Pluto." They are at their absolute wits' ends, with open rebellion brewing for the rule of law… and corresponding people's grand jury indictments and/or Truth Commission prosecutions of these gangsta, First Principles'-violating judges and other public officials.
Donate what seems right, and don't forget to 'tithe' all property recoveries—that we are now fortunate to avail ourselves of thanks to the Hendrickson Discovery—to Pete at 232 Oriole St., Commerce Twp., MI 48382.
"The limits of tyrants are proscribed by the endurance of those they oppress."
— Frederick Douglass
This post has been read 1859 times!