AE911Truth a Hit at the Red Pill Expo in Montana
By Michael Atkinson for 9/11 Truth… + more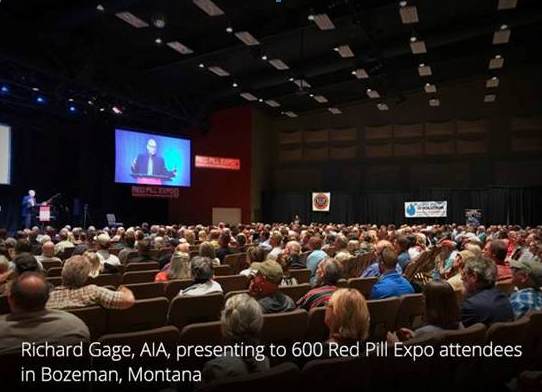 Nearly 600 eager truth seekers from all over the US gathered at the Red Pill Expo in Bozeman, MT, this past weekend. The highly anticipated event featured at least a dozen internationally-known speakers including AE911Truth's Richard Gage, AIA. According to reports from dozens of attendees, Gage delivered a stunning, inform-ation-packed presentation on the explosive WTC evidence.
The audience proved to be well-informed and open-minded. Of the nearly 600 attendees, just eight of them came in believing the official narra tive that jet planes and fires brought down the Twin Towers, while 16 were unsure. By the end of the presentation, no one believed the official narrative and only eight were unsure. We sent the crowd home with hundreds of brochures, DVDs, t-shirts, and hats with which to prompt discussion and inform their family, friends, and co-workers.
Held in the heart of the Rocky Mountains, this unique gathering was wildly successful by any measure — thanks to the deft vision and hard work of G. Edward Griffin, author of The Creature from Jekyll Island. Click link to sign up for free replays:
https://redpillexpo.org/ Continue reading →