The end times and extraordinary life of Phyllis Joy
by Brian Wright (reviewed by the author)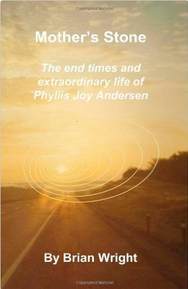 The idea of this book stems from a series of columns I wrote as a diary of my mother's 'end times.' She was victim to a genetic illness known as polycystic kidney disease (PKD). As a patient she traversed the modern medical bloodletting system, availing herself of the best technology health insurance covers… and survived it in style for three-plus glorious years. Moreover, the universal meaning of her life 'as a whole' transcends the short period of her end times and is what I have aimed to capture as a message from the sages: health lessons learned and freedom lessons shared.
I originally speculated that Mother's Stone might serve as a focal point of national and international (and non-national) discussion on how to achieve 'better outcomes' in medicine—at least kidney surrogate technology. I feel the diaries of Part I do a fair job of showing how the system works (and doesn't work) today. It's not all bad and we can do a whole lot better. But in "Part II: The Life" I take off the gloves: the restoration/reconstruction of such a marvelous life as my mom's offers not only inspiration but a healing balm. Continue reading →