On Homecoming and Belonging
by Sebastian Junger
Reviewed by Brian R. Wright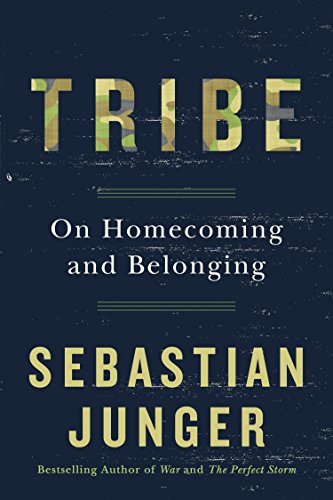 Tribe, working definition: The people you would share the last of your food with.
A short read, yet a powerful one. Junger is an established writer-journalist—The Perfect Storm (1997), A Death in Belmont (2007), Restrepo, film (2010), War (2010)—who takes on the social psychology of individuals wanting to feel part of a larger special community of souls. [I would  use the word, collective, except for its often-negative connotations. What distinguishes a 'good' collective or community is the individual's choice in the matter. And what initially drew me in to Mr. Junger's narrative was his recounting of how during American colonial days, large numbers of the whites would wander off to live with the Indians… so much so that the Puritans had laws against it.(!) [There were no recorded cases of the reverse, where Indians chose white society.]
"'We had no master to oversee or drive us, so that we could work as leisurely as we pleased,'" she explained. 'No people can live more happy than the Indians did in times of peace…. Their lives were a continual round of pleasures.'"
—  p. 11 Seneca captive, Mary Jenison.
Reminds me of things spirit brother, Russell Means, would say.
The author's interest in the subject stems from some early observations while he was still living in suburban Boston: simply that modern conventional American life affords very little in the deep and self-sustaining spirit of community. So he set out on a wander to the West, 1986, hitchhiking, had an incident with a disheveled man who stopped to give Junger the man's whole ration of food, made a special effort to see how Junger was doing. [To my mind, this was an instance of general humanity, perhaps encouraged by the man's social group, but certainly something the man might have done completely on his own.] Continue reading →