Why libertarianism is best hope for the future
by David Bergland
Reviewed by Brian Wright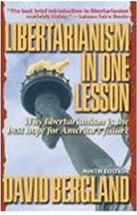 Mr. Bergland's concise, logical, and benevolent book—first edition published in 1984—on the nature of liberty, libertarianism, and the modern libertarian movement has become a classic. Properly so. Like most classics in the field, it is well worth consulting repeatedly by liberty activists—as well as being placed in easy reach on our bookshelves for handing to those yet innocent of the principles of freedom.