Authentic-feeling story of keeping it real 7/10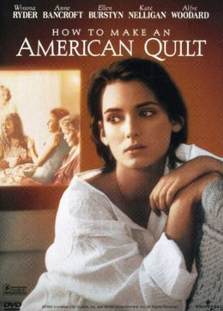 Finn Dodd:
For as long as I can remember, my grandmother and her friends have been a part of a quilting bee.
I remember sitting under the quilt frame pretending that I was surrounded by a forest of friendly trees and that their stitches were messages from giants written across the sky.
I used to spend my summers with my grandmother and my great-aunt, who lived in Grasse, California.
My mother would dump me there when she took off with her latest boyfriend.
My parents' marriage didn't last very long.
They said they didn't love each other any more.
Or maybe they were just afraid that their relationship had become just like everyone else's.
They eventually parted as friends.
And I eventually stopped thinking it was all my fault.
The truth is it's no one's fault. Sometimes love simply dies.
Well, first of all, check out the actors in this cast of the 1995 film—it was the nominated for the MTV "Best Kiss" award (Winona Ryder and Dermot Mulroney) and for the Screen Actors' Guild "Best Performance by a Cast" award.  Almost all of them are recognizable stars from the past, with some Academy Award winners, or have since then made solid acting careers for themselves… and there are so many of them. Continue reading →