Stream-of-consciousness to fantasy football colleagues on hazards of NFL on TV
By Brian R. Wright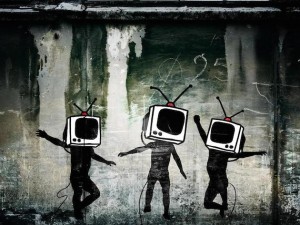 I can't help feeling, whenever I'm watching an NFL football game, that I have voluntarily submitted my brain to be washed and beat dry with a dirty broom. I've entered a programmed reality where it is practically mandatory to check one's own "I" at the doorstep. Sit still for a barrage of images and sounds with one objective: total submission… in reward for which I can have this magnificent illusion of collective acceptance and material success, especially if my team(s) win.
Here's how I put it to a friend of mine just last night:
"You should watch NFL football games, the whole purpose is to sell you excitotoxin-dripping crap to eat and drink, buy and use harmful pharmaceutical drugs, live in an unattainable, unsustainable Shangri-la with all the polished (mostly life-and-health-threatening) technologies and conveniences, with Stepford-Wife, cardboard-cutout families and neighbors, continually faking deep wholly externally contrived emotions of joy or sorrow or compassion, and launching into massive personal debt in coordination with our proudly unaccountable debt-junkie government… enabling it to manufacture and sell/deploy ginormous arsenals of weapons/personnel to destroy millions of 'the Other' real human beings (these days usually under full obeisance to its similarly sadistic, devil-worshiping pack of dogf***ing puppetmasters, the Apartheid state of Israel)–representing wholly made-up, bogus, overblown, false-flag threats to our freedom and to our sanctimonious, brain-dead, point-and-grunt, perceptual-emotional, shopaholic way of life.
"Hallelujah to the F16 fly bys!
"Morbidly obese Big Brother with nuclear warheads, who can resist?
"… or have the slightest question of OUR NATION'S hallowed collective virtue.
"Put me in, coach! Cheeseburger, cheeseburger. Coke, coke.
"Kill the Muslim sand negroes…
"… you truthers rot in hell.
"USA! USA! USA!"
And these are our countrymen? I gave up cable TV last year, but I bought an antenna this year to be able to 'watch the games.' I'm not sure I'll  be physically or psychologically able to subject myself to the above subliminal ravages much longer. Maybe the Super Bowl in February. Fact is, nobody in my Fantasy Football Land falls into the category of complete unquestioned blind obedience to authority, but I'm afraid they ARE suckers for flag-waving official stories, however absurd. Such as 9/11. They'll come around. All halfway normal, decent humans will.
THEN… welll, remember back when cable carried no advertising!? My kinda football TV.
This post has been read 966 times!