Morality play that made Matt Dillon a star __ 8/10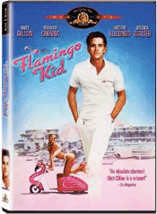 Jeffrey Willis: Gin, Phil.
This one, produced in 1984, was overlooked by many audiences and critics (though Roger Ebert gave it 3 1/2 stars and said it was a lot of fun). It's set in Brooklyn, NY, in the summer of 1963, and has a look and feel of Dirty Dancing (1987) crossed with American Graffiti (1973). The story recounts the coming of age of a young man Jeffrey Willis (Matt Dillon).[1]
Directed by Garry Marshall
Story and Screenplay by Neal Marshall
Writer Garry Marshall
Writer Bo Goldman
Matt Dillon … Jeffrey Willis
Hector Elizondo … Arthur Willis
Molly McCarthy … Ruth Willis
Martha Gehman … Nikki Willis
Richard Crenna … Phil Brody
Jessica Walter … Phyllis Brody
Carole Davis … Joyce Brody
Janet Jones … Carla Samson
His father (Hector Elizondo), a plumber, has Jeffrey all set to work a summer job in an office as a favor from someone for whom he does plumbing. But a couple of Jeffrey's friends pop by in a convertible and want Jeffrey to fill in as a third man on their gin rummy team. Jeffrey heads out with them to an exclusive beach club, the Flamingo, then one thing leads to another and he winds up taking a job parking cars there. So he tells his pop, no thanks on the indoor summer job. With tips, Jeffrey feels like a Rockefeller.
This sets up the conflict of the drama: the value of family and loyalty vs. ambition. The Flamingo turns out to be a cradle of ambition for the young Jeffrey: he winds up with a good bunch of guys who work hard and enjoy the scenery. Plenty of young pulchritude there, but the stunning Carla Samson (Janet Jones also in a come-out role)—if there was ever a perfect body, well, hubba hubba is all I can say about Janet Jones—makes them look like second fiddles. Jeffrey is smitten. And so is Carla with him.
Carla is also the niece of "the King," what the cabana boys call Phil Brody (Richard Crenna) because of his prowess on the gin rummy tables. He's a premier member of the Flamingo, and, having no sons to whom to pass down his New York sports car dynasty, he immediately takes to Jeffrey. Brody initially seems to be a good guy, and when Carla invites Jeffrey to the Brodys for dinner, Phil has a way of making the young man from Blue Collar Brooklyn feel at home. It's clear that Phil wants Jeffrey to eventually have a significant role in his business, even a role in his family via Carla.
Brody's better half Phyllis (Jessica Walter) plays the snobbish wife to a tee, but with a believable sense of humor, too. In fact, that's a remarkable quality of the film: The conversation and interplay among characters generally stays light, and popular songs of the time come up at the right moment. Soul music, the early versions. Great classic sharps and flats. The movie dual tracks along the plot of ambition via Phil and first love via Carla; the romance scenes, especially, are delivered expertly. You can give Janet Jones snaps for the acting, too.
So you can probably guess the story line. A bit of a morality play, decisions have to be made. What about Jeffrey's family? Will the old man give him a break? Since Jeffrey started working at the Flamingo and then got close to Brody, Jeffrey has thought about becoming a salesman, not going to college, moving out of the house in Brooklyn—which he shares with his father, mother, and a sister, Nikki, who provides additional comic elements by (just awful) playing of the clarinet in the small family living room.
How will it all play out?
Can't reveal the resolution. But let me make a note here about a couple of these humorous parts.
When Jeffrey is invited to the Brodys' place, and dinner is ready, he heads to the bathroom to wash up. He's finishing at the sink and notices some small round shiny pebbles on the side, and pops one in his mouth thinking it's candy. Yikes! It's soap! Dillon is a champ with the facial expressions.

But what's next is even more special. You hear the voices of Mr. and Mrs. Brody, she's alarmed that that "boy" from the other side of the tracks is alone in the bathroom. At that moment, Jeffrey has recovered from his candy mistake, and is fingering the soap above the towel rack, which is shaped as small sea shells. Nice. He sneaks one into his pocket. Then we hear Mr. Brody coming back to his wife, "What are you afraid of, that he's going to steal the soap?!" Jeffrey puts the sea shell back.

Also, at the same affair with the Brodys, Jeffrey repeats a nervous tick he has of singing while he eats. Again, Dillon does a fine job of making it look like a natural process. Jeffrey has been doing this sort of mumbled singing at the dinner table with the family ever since he was a boy. His family is used to it, but in the large, elegant Brody dining room, with Carla by his side, it appears out of place. And it's a naturally comic moment.
The director of The Flamingo Kid is Garry Marshall, who is the brother of Penny Marshall, and a well-known producer, director, and writer, even actor. He is probably best known for producing Laverne and Shirley, Mork and Mindy, and Happy Days. I find his work in this movie as amazingly efficient, and propulsive: the film moves economically but with exceptional warmth and intelligence. It's a kick to read his page on IMDb, because he's a genuine character.
For one thing, he uses Hector Elizondo in almost all his movies. Then he's obviously into nepotism with The Flamingo Kid—Neal Marshall is one of the writers—and other projects. Here are a few Garry Marshall quotes:
There is more to life than show business.
When in doubt, you bring in relatives. Nepotism is a part of my work.
[Julia Roberts] was young, but just fearless, and she was obviously popping off the screen. Watching her grow up has been one of my pleasures.
So, unexpected pleasure. The number of familiar tunes isn't as high as in American

Graffiti, but they're perfectly placed. The love story works, the morality play works. Like Dirty Dancing, the setting rings authentically. As if the writers actually worked and played in a club like the Flamingo, lived in the world around New York City as teenagers and had so many of the experiences described in the movie.
Great choice for vintage viewing.
[1] Even though Dillon doesn't win any award nominations—the only award is a Golden Globe for Richard Crenna as best supporting actor—it's a singular performance in a wonderful role. Like Tom Cruise in Risky Business. Definitely puts Matt Dillon on the map.

---
This post has been read 8722 times!