Better than average 'quirky' film ___ 7.5/10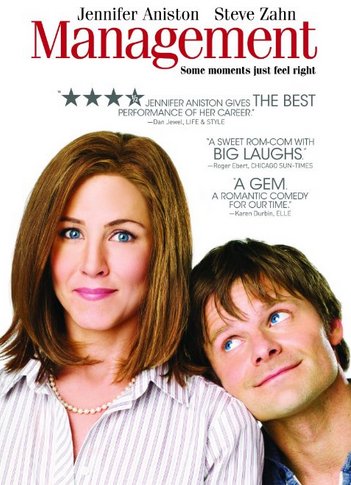 Mike: Take care of yourself a little… so that the people who love you don't feel like they're annoying you!
So along comes a simple movie with eccentric characters in a long line of such movies, from, say, Harold and Maude (1971) to Night Shift (1982) Benny and Joon (1993) to Stuck on You (2004) to Sunshine Cleaning Company (2008) to dozens of others over the years. And we tend to like movies in which one or more of the principals is a 'few bubbles off of plumb.' When you look at various projects available to Hollywood actors who have 'made it'—and that designation certainly applies to Jennifer Anniston and Steve Zahn—I feel the better ones take time for some smaller, odder ideas that give them more delight in the performance than cash in the bank.
Jennifer Aniston … Sue
Steve Zahn … Mike
Margo Martindale … Trish
Fred Ward … Jerry
James Hiroyuki Liao … Al
Woody Harrelson … Jango
Katie O'Grady … Receptionist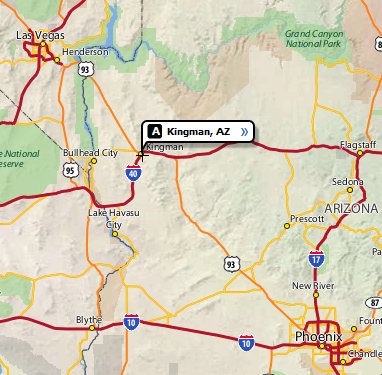 Management is that kind of film. The skill and interest in such a story is all a matter of characterization. You would never imagine in a hundred years that a psychic/romantic connection might exist between a simple fellow from Kingman, Arizona, and a corporate girl from a suburb of Baltimore. For one thing, how would they ever run into each other? Kingman
is purely in the middle of nowhere.
Mike Cranshaw (Steve Zahn) works for his parents' motel in Kingman on Route 66; one day a young woman in a business suit arrives at the front desk. As Sue Claussen (Jennifer Anniston) is checking in, Mike is checking out… her slim, pert anatomy. The process whereby the two become acquainted is one of the more quixotically comical—yet amazingly uncomplicated—'meet cutes' in cinematic history. From a guy's perspective, you'll probably wonder why you never thought of such a surefire come-on back in the day.
So why is she in Kingman? I don't think the movie makes the details crystal clear, but she's a buyer for a corporation that sells art to businesses… art like the paintings one finds on motel walls of Middle Americana. Apparently, she looks for original artists who offer their works for sale in out-of-the-way places like the Arizona desert. While Mike's actions are straightforward devices to serve his manly, though lovestruck, urges, Sue has a practiced method of turning away those kinds of attentions by cutting herself off. She uses her education and vocabulary to disconnect socially.
But right from the gitgo, part of her says, "Thing is, this guy is so totally innocent of any wiles or hidden meanings. It isn't only about sex, in fact, it isn't primarily about sex: he seems completely into me." And despite her remoteness both in mind and geography, she starts to like him back. What follows is point and counterpoint as Mike follows her hither and yon, they hook up and then unhook up, as she decides to rehook up with her former boyfriend, a one-time grunge (or is it punk?) rocker turned Seattle organic yogurt magnate named Jango… played to intense, psychopathic perfection by Woody Harrelson.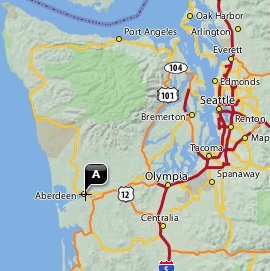 So what's going on? Mike isn't the type to give up on a  girl like this. [Oddly enough, it doesn't seem like  stalking.] So he winds up in the Northwest, in the  region around Seattle, in fact the Washington-state  town (Aberdeen) where Kurt Cobain was born. He  meets a few interesting characters, even Jango himself,  in his desperation not to let go of Sue. One of these  characters, Al (James Hiroyuki Liao) becomes essentially  Mike's best friend, a brother he never had. It's a challenge to fit the relationship with Al into the story, but writer/director Stephen Belber manages it through humor and sharp repartee.
That's something that probably should have been mentioned at the outset: Management moves along in a steady stream of the low-key humor and pathos of life… of life's eternal rhythms. The peripheral characters—like Mike's dad (Fred Ward) or Mike's mom (Margo Martindale) or Al, or even the Buddhist monk that comes into play toward the end—have important roles in the development of Mike's character. In fact, without them, he can't reach the level of maturity, have enough self-esteem, to be right with Sue.
On Sue's part, the character development isn't so much a bouncing-off of awareness from others as it is a coming to terms with a dormant and suppressed emotional isolation imparted by her mother. Anniston is terrific in playing those scenes where she wrestles with feeling perpetually unworthy and unloved. Too many of these poor souls in real life, eh? We see that Mike is the first man to ever give her that unconditional appreciation, not putting her on a pedestal but treating her as a normal human being deserving the normal affection of all God's good creatures.
We have to give Steve Zahn credit, too, for playing Mike with just the right amount of passion. Mike knows he's not cut out to be a leader of men, but there's something quietly heroic in his persistence, his willingness to continuously improve, and in his unshakeable conviction that he is worthy of happiness. All in all, there's not much more to talk about without giving away some key stuff; the movie is simple, it's funny, it's clever, it's kind of inspiring, and the actors are great. [A minor caveat: Mike and Sue, in my humble opinion, are late-20-something persons and, checking the IMDb records, both leads are 40-something as of this five minutes.]
One final question: why the title "Management?" All I can think of in that connection is that quote from John Lennon, "Life is what happens while we're busy planning other things." And the term has to apply mainly to Sue, who is trying to control her relationships so that she can pretend that it isn't important for her to be loved. She's "managing"… her career, her causes, and the protective shield she's constructed to avoid pain. Manage also has a sense of "getting by," in the case of, "he's managing." That seems to apply to the Mike Cranshaw character, even though he's always been committed to personal growth. Mike is getting by with a little help from his friends.
So a thoughtful effort from one of the writers on The Laramie Project. Fine holiday fare.

---
This post has been read 1252 times!