Chilling reminder of the essence of Eastern Bloc tyranny 10/10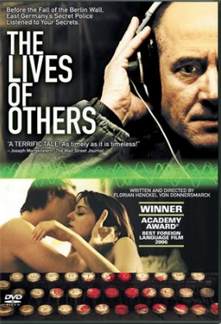 "A great socialist once said, writers
are engineers of the soul."
The Lives of Others (Leben der Anderen, Das) won last year's (2006) Oscar for best foreign-language film. Deservedly so, and I regret I have only just this week have managed to view the DVD.
It is set in Berlin, East Germany (GDR) roughly five years before the collapse of The Wall, a period when few ordinary residents of that glorious communist paradise imagined they would ever be free of its soul-deadening, omnipresent yoke.
An aspiring Stasi (East German secret police) true believer in the supremely ordered perfection of this grandiose yet drab insane asylum, Herr Hauptmann Wiesler (Ulrich Mühe) wants to do the right thing.  Wiesler is a poor imitation of Andre Taganov in Ayn Rand's We the Living: he believes in his heart socialism can work. By rooting out defectors, enablers of defectors, and sundry critics of the ideal society, he's doing "the Lord's business"—the lord of regimented collectivism.
Written by Florian Henckel von Donnersmarck
Directed by Florian Henckel von Donnersmarck
Ulrich Mühe … Hauptmann Gerd Wiesler
Sebastian Koch … Georg Dreyman
Martina Gedeck … Christa-Maria Sieland
Ulrich Tukur … Oberstleutnant Anton Grubitz
Thomas Thieme … Minister Bruno Hempf
Hans-Uwe Bauer … Paul Hause
Volkmar Kleinert … Albert Jerska
Wiesler's immediate boss, Oberstleutnant Anton Grubitz (Ulrich Tukur), seems easygoing enough for a section chief.  Grubitz smiles incessantly and seems to have the right connections to keep his privileged position indefinitely… provided Grubitz pleases his own superior, Minister Bruno Hempf (Thomas Thieme).
In a poignant illustration of odorous stuff rolling downhill, Hempf, who has friends on the Central Committee, is a fat, disgusting puke who wants to throw his weight around.  He has the brain of a street-thug rapist and he frequents the theater, where he prides himself on rooting out and suppressing artists with antiauthoritarian impulses—which, of course, are those with a shred of creative talent.
Early we see Grubitz approaching Hempf in the theater hall.  They have just witnessed a fine new play by East German Golden Boy Georg Dreyman (Sebastian Koch), starring Dreyman's beautiful girlfriend and world-class actress, Christa-Maria Sieland (Martina Gedeck).  The brutish Hempf wants to violate Christ-Maria on a regular basis, so he seeks to catch Dreyman in some act of socialist betrayal to get him out of the way.
But the naturally decent, heroic Dreyman has friends in high places—the wife of GDR head ramrod Erich Honecker is a fan—so Hempf has to really get the goods on Dreyman: prove that Georg is either trying to defect or writing something derogatory about this slavish society and selling it in the West.  Hempf tells Grubitz to upend Dreyman, then Grubitz tells Wiesler to bug Dreyman's apartment.
I know, you're thinking, "What a boring, depressing story."
Well, yeah.  But that's what sucks you in.  Because of the mundane nature of peoples' lives in any society, one comes to see how such lives in a controlled society lead to terrifying outcomes.  Normality, honesty, everyday beauty become a death trap subordinated to the worst instances of humankind.  I hold my breath, "Please don't let these awful lowlifes, enfranchised by a wretched mechanistic system, beat down honest, universal humanitarian desire."
Wiesler starts monitoring the bugs he's had planted.  But what's this?  Wiesler becomes drawn to the couple, Dreyman and Christa-Maria, and particularly to her internal and external beauty.  He begins to fall in love with her.  He acquires respect, even love, for the writer Dreyman, too.  But he's stuck.  His chain of command wants to destroy the beneficent presence of this exalted poet and his woman.
Hempf pushes it.  He accosts Christa-Maria from his limo and basically rapes her therein; she acquiesces to a regular schedule of forced sex at Hempf's place in order to protect Dreyman. Wiesler, through his monitoring, gets wind of Dreyman's interest in doing a poignant East German suicide article that will be published in Der Spiegel.  Wiesler tries to keep this damaging information to himself, but his boss Grubitz, pressured by Hempf, comes down on Wiesler harder and harder.
Wiesler is changing.  Now he begins to see the evil of the system he's been supporting, a system that will destroy the true love Dreyman and Maria-Christa feel for each other… and the love Wiesler has for them.
What will Wiesler do?
What will Dreyman do?
What will Maria-Christa do?
The GDR is the ultimate "benign" coercive system.  On its face, if you defy the state, you don't get sent to the Gulag or have bamboo shoots stuck up your fingernails.  But you do get solitary confinement for months, and when you come out, you cannot work.  The state murders your life energy.  Suicide is epidemic.
The East Berlin settings, even the partying ones, are starkly sad, exactly like it must have been.  It touches me like few movies to see these trapped loving, creative persons having to tap dance around goons of the spirit.  Naturally, one wonders if it could happen here, and one is thankful it hasn't… though it certainly could.  And I believe it would have that uniquely sportscrazed, martial, corporate-American megacommercialism we've all grown to know and love: like the world in Arnold Schwarzenegger's The Running Man.
Fundamentally I'm encouraged by a movie such as The Lives of Others.  It's very difficult to see how evil men who usurp political power in the United States can shut down the engine of freedom.  Writers like me, for example, who "hate the state constructively" still have no fear of that knock on the door… well, not a large fear.  In time I feel our modern usurpers and powermongers will fall on their lies.
Thank you Thomas Paine, thank you Thomas Jefferson, thank you every man and woman who consciously asserts their independence from the State, daily… and is prepared to fight for it.  One critic stated this is the best movie he's ever seen.  I don't know if I'd go that far.  But it's a slam-dunk, must-see 10.
Save
Save
Save
This post has been read 789 times!