Fast-paced air-controller drama unto Zen _ 8.5/10
Review by Brian Wright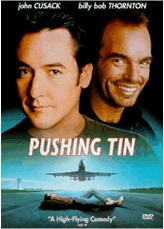 Zack looks around at his colleagues, these controller-magicians who keep the skies safe by coming to work, day after day, and pulling rabbits out of their scopes. "This whole job is an endurance test, from the first day until you retire. And you know who holds the whole thing together? We do. We don't do it for the FAA, and we don't do it for the airlines. We do it for ourselves. We just keep pumping tin." He turns to his scope and watches as it fills once again with blips—six jets from the south, four from the west, four from the north—American 1438, turn right heading 260! Traffic off your 3 o'clock!—planes and then more planes, no end in sight. — from New York Times Magazine, article by Darcy Frey, "Something's Got to Give," March 24, 1996.
TRACON air traffic controller: "You land a million planes safely, then you have one little mid-air, and you never hear the end of it." Continue reading →