Comic/harsh political satire nails our time _ 8/10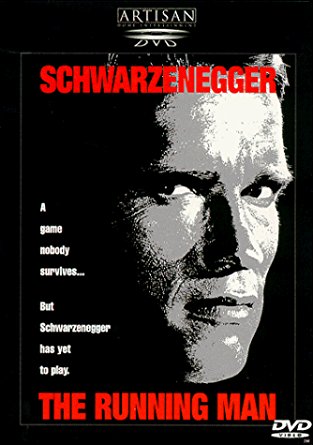 Damon Killian: This is television, that's all it is. It has nothing to do with people, it's to do with ratings! For fifty years, we've told them what to eat, what to drink, what to wear… for Christ's sake, Ben, don't you understand? Americans love television. They wean their kids on it. Listen. They love game shows, they love wrestling, they love sports and violence. So what do we do? We give 'em *what they want*! We're number one, Ben, that's all that counts, believe me. I've been in the business for thirty years.
Damon Killian: Hello, this is Killian. Give me the Justice Department… Entertainment Division.
Directed by Paul Michael Glaser
Novel Stephen King
Screenplay Steven E. de Souza
Arnold Schwarzenegger … Ben Richards
Maria Conchita Alonso … Amber Mendez
Yaphet Kotto … William Laughlin
Jim Brown … Fireball
Jesse Ventura … Captain Freedom
Erland van Lidth … Dynamo
Gus Rethwisch … Buzzsaw
Professor Toru Tanaka … Subzero
Mick Fleetwood … Mic
Dweezil Zappa … Stevie
Richard Dawson … Damon Killian
Karen Leigh Hopkins … Brenda
Phil Hilton: *The Running Man* has been brought to you by: Breakaway Paramilitary Uniforms, Ortopure Procreation Pill, and Cadre Cola; it hits the spot! Promotional considerations paid for by: Kelton Flame Throwers, Wainwright Electrical Launchers, and Hammond & Gage Chainsaws. Damon Killian's wardrobe by Chez Antoinne: 19th-Century craftsmanship for the 21st-Century man. Cadre Trooper and studio-guard side arms provided by Colchester: the pistol of patriots. Tickets for the ICS studio tour are always available for Class-A citizens in good standing. If you'd like to be a contestant on THE RUNNING MAN, send a self-addressed stamped envelope to: ICS Talent Hunt, care of your local affiliate, and then go out and do something really despicable! I'm Phil Hilton! Good night, and take care! Continue reading →