4: Pregnant days of first memories of (who knows, may yet be) a special life
Brian R. Wright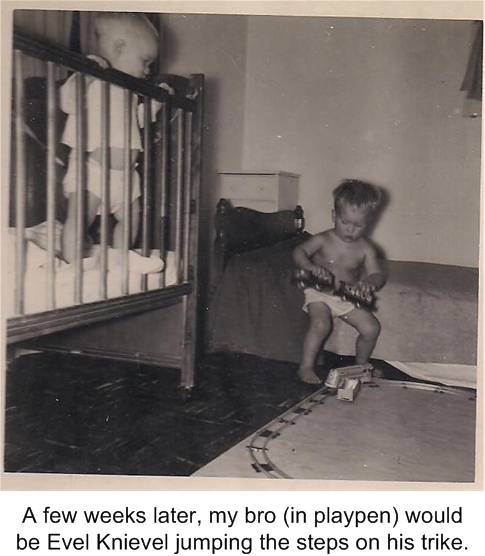 Note: These columns are a series, I will make into a volume of my memoirs. You may follow the links at top and bottom of page to go to preceding or succeeding episodes. The series starts here. {If the [Link to Episode <next>] at the  bottom of the column does not show an active hyperlink, then the <next> column has yet to be written.}
This is truly strange for me, because I rather vividly remember Le Gran Tricycle Launch by my brother, as described in Episode 2. And that was before we moved to the Overland Park digs described in Episode 3.
I calculated that Episode 2 took place when I was 3 to 3 1/2 years old, so the following awareness—which at the time I told to myself that that instant I would subsequently remember as my first self-conscious moment—occurred after- ward, at age 4 to 4 1/2. In Overland Park.
Dawn of the Independents' Movement?[1]
And it was very simple: I was outside on the grass in the front yard between our home and the neighbor's home, the Browns. Nothing else. Just 1) nice sunny day, 2) standing on the grass, 3) and taking a view toward the north. That's it. Plus the fully conscious knowing that this moment was going to be the very first of my special 'Brian Wright' self-aware life. Freedom and the joy of being rolled into one. Now, I speculate, was this a foretelling of some kind that I would, indeed, choose psychological independence and maintain it thru all the forces seeking my conformance until today? Continue reading →