They hate us because we blow all to hell their men, women, and children
Reviewed by Brian R. Wright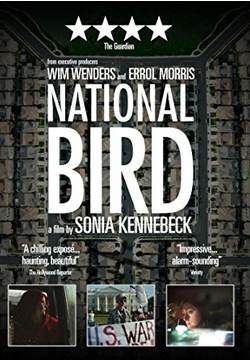 This film just fell into my lap one night as I was visiting a lady friend. She had downloaded it from PBS, where I believe you can watch it for free [Nope, the deal expired there]. I'm guessing it's widely available on YouTube as well [Nope, as well. But trailers and clips are readily available and the full movie can be watched on your PC/TV for a $3.99 fee… extremely reasonable].
Basic Description per PBS:
"National Bird follows the dramatic journey of three whistleblowers determined to break the silence around one of the most controversial issues of our time: the secret U.S. drone war, which has been waged globally for more than a decade. The film, executive produced by Errol Morris and Wim Wenders, gives rare insight into the program through the eyes of veterans and survivors, to explore the complexities of drone warfare from a human perspective.
"At the center of the film are three U.S. military veterans — Heather, Daniel, and Lisa. Plagued by guilt over participating in the killing of faceless people in foreign countries, each decides to speak out publicly, regardless of the consequences. Their stories take dramatic turns, leading one of them to Afghanistan, where she learns about a tragic incident involving drone warfare. But her journey also gives hope for peace and redemption.
"National Bird explores the difficult circumstances faced by military personnel involved with combat drones, the use of which has transformed modern warfare. Missions are highly classified, and there are no official counts of military or civilian casualties. The need for operators and intelligence analysts is increasing, yet their experiences and perspectives have been largely neglected because of their distance from the battlefield. While it may be true that these veterans don't sustain battlefield injuries, their psychological wounds can be substantial, leading some to suffer from post-traumatic stress disorder (PTSD).
"Pilots and analysts observe airstrikes live and in detail, including the aftermath, when survivors pick up human remains for burial. Yet due to the secrecy of their positions, they are prohibited from discussing the details of their experiences with anyone — even their psychiatrists. For some veterans these constraints are too much to handle."
My Personal Reaction