Supremely crafted psychological drama____ 9/10
Written and directed by Scott Frank
Reviewed by Brian R. Wright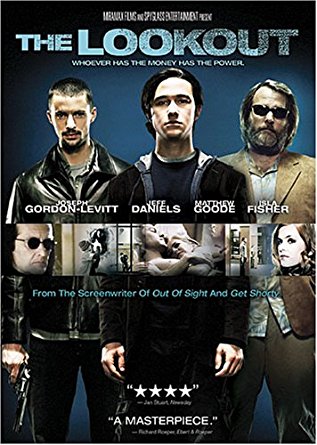 Joseph Gordon-Levitt … Chris Pratt
Jeff Daniels … Lewis
Matthew Goode … Gary Spargo
Isla Fisher … Luvlee
Carla Gugino … Janet
Bruce McGill … Robert Pratt
What a first-class effort: completely engaging from start to finish. I had read on IMDb one reviewer's comments that's it's just nice to watch a movie that's extremely well made, you know, as it all works together seamlessly to convey a meaningful story.
The actors are in top form as well, especially the young lead Joseph Gordon-Levitt who you'll probably recognize as some child actor that you just know you've seen a million times.  He came of age recently in an interesting film noir effort Brick (2005), a story about a bizarre killing in a dysfunctional high-school environment.
Levitt plays a boy named Chris Pratt, who becomes a star high school athlete in a fictional Kansas farming town south of Kansas City. He's fooling around one night on a double date in his convertible Mustang GT, which leads to a major accident. The couple in the back are killed, while he and his girlfriend suffer disabling injuries.
He winds up as janitor at the town bank and receives some public assistance both for his psychological damage—he has a hard time with things like remembering sequences of events and quantities; he's bottled up his feelings—and for his physical restrictions, mainly pain and mobility related.  He has troubles with normal development of relationships with girls, illustrated by his hitting on his therapist Janet (Carla Gugino). Continue reading →