Inside the Trump White House
By Michael Wolff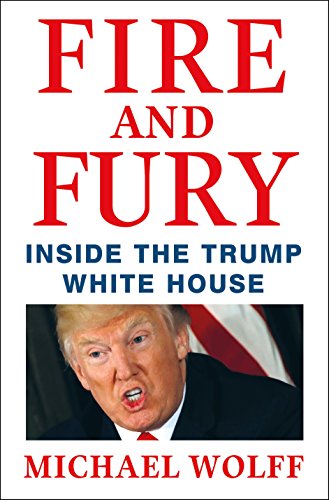 This one is a very popular, stand-in-a-long-waiting-list-at-your-library narrative from an individual who had remarkable access or at least implicit fly-on-the-wall observation authority during many of the turbulent hours of the Trump presidency for the first 100 days and then some. Michael Wolff is an unabashed part of the Mainstream 'Program,' yet withal IMHO a mostly objective reporter—at least within hailing distance of the Hunter S. Thompson 'gonzo journalism' model—of what all went  on. Plus, he writes clearly with understated, therefore, occasionally ROFL humor.
To use a phrase that comes to mind, "nobody could make this s**t up." And Wolff's timing and level of description are impeccable. It's quite easy for someone who is only vaguely familiar with the mainstream noise—I cancelled my cable and rarely watch broadcast channels—to follow who's doing what to whom and where they're coming from in their careers and motivations.
For instance, I had no idea that Trump's chief of staff is or was, like, a triumvirate:
Steve Bannon (the, some would say, alt-right ideologue who fashioned himself as the Rasputin to the Donald)
Rience Priebus (from the Republican National Committee), and
Jared/Ivanka (Jarvanka: Ivanka is Trump's daughter and Jared is a rip-roarin' member of the ultra-Jewish-supremacist cult, Chabad Lubavitch).
One wonders why Wolff was able to enjoy such a ring side seat in the Trump White House, but as he points out, the lack of structure in that bizarre environment enabled him to simply hang out there with nobody questioning his credentials. Still I would take about 30% of his blow by blows with a wheel-barrow-sized grain of salt: they just read too akin to creative fiction. But it's DYNAMITE creative fiction, for the most part, especially when Wolff gives wording to Trump's range of the moment states of mind. For example, here's a segment of the speech—obviously not fiction—Trump delivered to 300 CIA personnel at their Langley, VA, headquarters on January 21, 2017 (his first presidential act, throwing away a carefully prepared text): Continue reading →