From Laurent Guyenot's From Yahweh to Zion
Chaper 1: The Birth of Israel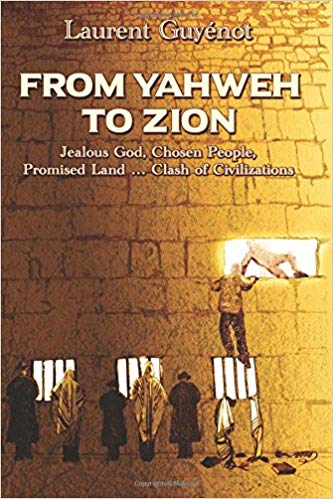 Since I am going to be occupied for the next couple of months with writing a couple of urgent books—one on the Hendrickson Discovery:American Gumption-Catharsis and one on First Principles' grand juries: The Accountability Project—I have decided to use most of my Guest Columns and my Brian's Columns during that time to basically plug and write an extended review for a watershed book… on perhaps the most important subject we can all learn more about: Jewishness and Israel. I say this mainly because of the demonstrable and ongoing primeval horrors that country has unleashed upon the people of Palestine, and the large-scale insidious crimes the sovereignist-Jew collective-psychosis has inflicted on all the countries and peoples of the world though-out history, in particular, with the advent of modern Zionism and 'the Jewish State' in the 20th century… leading to the death knell for America and her First Principles.
As with any deep collective-mind pathology, we cannot effect a healing (psychological independence, self-responsibilty, individual virtue, humanity) without an understanding. Mr. Guyenot has performed a dispassionate, scholarly service for which we—Jews AND non-Jews—will all be eternally grateful.
Starting off as a delusional general in a military coup, roughly 8 1/2 centuries BCE.
The Birth of Israel
"If you faithfully obey the voice of Yahweh your God, by keeping and observing all his commandments, which I am laying down for you today, Yahweh your God will raise you higher than every other nation in the world." Deuteronomy 28:1
It is believed that a general by the name of Jehu first promoted the cult of his god Yahweh in the kingdom of Israel, after seizing the throne in 842 BCE. Yahweh Sabaoth (Yahweh of armies) seems to be the archaic name of this military god, which was carried in battle in a mobile ark (1 Samuel 4:4). He resembled Assur, the national and military god of the Assyrians, presented in Assyrian chronicles as the true king of the eponymous city-state, with the human ruler being only the vicegerent. Assur is a warrior god, who grants victory to his people and destroys the gods (i.e., temples and shrines) of conquered peoples. This is also, as we shall see, the dominant feature of Yahweh.