Bogie classic psychological drama of mobsters and the good guys___8/10
Reviewed by Brian R. Wright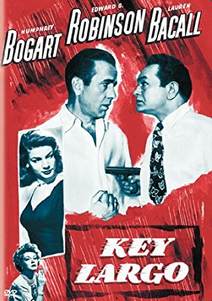 Lots of little reasons add up to make this a big movie. It's sometimes easy to dismiss an old film for its antiquated technology. A movie like Key Largo, today, reminds one of a play being performed for cameras in a big building on the Warner Brothers property in Burbank, CA—which of course it was.
But that 'stage' quality of old classics actually encourages one to focus on the essentials,  namely plot and character. The screenplay was written by director John Huston and Richard Brooks, based on a play by Maxwell Anderson.
The setup: Frank McCloud (Humphrey Bogart) is passing thru the Florida Keys during the tourist off-season to pay his respects to the father [James Temple (Lionel Barrymore)] of a good friend of McCloud's who was a member of his unit in World War 2, and killed in action. Temple's daughter-in-law, Nora (Lauren Bacall), is the widow of Temple's son… and helping the elderly, wheelchair- bound Temple to run his oceanfront hotel, The Largo.
Before Frank shows up, an underworld entourage with notorious racketeer, Johnny Rocco (Edward G. Robinson), has been exclusively occupying The Largo for several days—using it to stage a substantial criminal financial heist in cooperation with a rival set of mobsters. Rocco's yacht is initially anchored within sight past the coral reefs. Johnny's moll, fading singer-performer Gaye Dawn (Claire Trevor) accompanies the Rocco gang… and provides the platform, by the way, for Ms. Trevor to win the Academy Award for Best Supporting Actress that year. Continue reading →