Casino Royale (2006)____
7/10
Worthy heir to the Bond franchise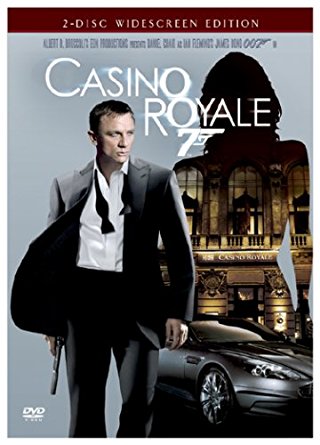 Directed by Martin Campbell
Selected Cast
Daniel Craig … James Bond
Judi Dench … M
Eva Green … Vesper Lynd
Giancarlo Giannini … Mathis
Mads Mikkelsen …. Le Chiffre
Casino Royale with the new James Bond (Daniel Craig) starts with an exhilarating chase scene in an African-port construction site.  Bond and his prey dance about the cranes and building columns like Spidermen or the swordsfolk of Crouching Tiger, Hidden Dragon.
If you're afraid of heights, you may want to avoid these first full 15 minutes of death-defying jumps and rumbles on high steel.  The camera pans out over the ocean with these tiny men in the foreground shinnying up greasy cables, surrounded by empty space. I felt twinges of vertigo combined with fear of falling.
Craig is the most physical Bond we've seen, and the most capable of tough-man-competition-like violence.
You wonder if the new Bond is simply a glorified killing machine, until we get into the actual plot with a beautiful associate Vesper Lynd (Eva Braun) winning his affection. Continue reading →