Heartfelt tribute to Petey Greene, one of a few who told it like it was… (8.5/10)
Directed by Kasi Lemmons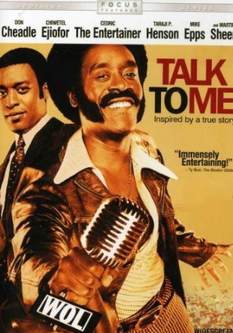 … and told it with style and humor, Ralph Waldo 'Petey' Greene, Jr. (1931-1984) was an electrifying and extremely street-funny black radio talk-show host in the late 1960s and early 1970s in Washington DC; he became prominent enough to host his own television show in DC from 1976 to 1982, winning two Emmys. His shows discussed a wide variety of political issues and public affairs, especially as they affected and afflicted black  Americans… and the poor in general. He overcame drug problems and a prison sentence for armed robbery.  Howard Stern, who appeared on Petey's show early in Stern's career, referred to Greene as a broadcasting genius in Stern's book, Private Parts.
Greene spoke from the heart and tended to resist the various compromises that would be necessary to catapult him into national attention. It was his humanity that made him endearing—including several instances of 'stage fright' or failure of confidence upon being presented with some next big challenge. The early scene when he first arrives at radio station WOL to assert his intentions of being employed by Dewey Hughes is typical: "Vernell," he tells his girlfriend, "my legs won't move." Somehow he manages in all these cases, until the one bellwether night at the Johnny Carson Show. Well, you'll have to watch the movie. Does he do the right thing? Continue reading →