Heartfelt tribute to Petey Greene, one of a few who told it like it was… (8.5/10)
Directed by Kasi Lemmons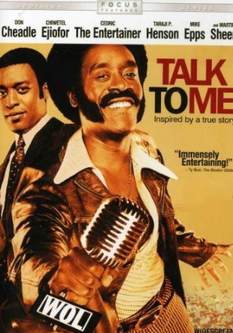 … and told it with style and humor, Ralph Waldo 'Petey' Greene, Jr. (1931-1984) was an electrifying and extremely street-funny black radio talk-show host in the late 1960s and early 1970s in Washington DC; he became prominent enough to host his own television show in DC from 1976 to 1982, winning two Emmys. His shows discussed a wide variety of political issues and public affairs, especially as they affected and afflicted black  Americans… and the poor in general. He overcame drug problems and a prison sentence for armed robbery.  Howard Stern, who appeared on Petey's show early in Stern's career, referred to Greene as a broadcasting genius in Stern's book, Private Parts.
Greene spoke from the heart and tended to resist the various compromises that would be necessary to catapult him into national attention. It was his humanity that made him endearing—including several instances of 'stage fright' or failure of confidence upon being presented with some next big challenge. The early scene when he first arrives at radio station WOL to assert his intentions of being employed by Dewey Hughes is typical: "Vernell," he tells his girlfriend, "my legs won't move." Somehow he manages in all these cases, until the one bellwether night at the Johnny Carson Show. Well, you'll have to watch the movie. Does he do the right thing?
Key roles:
Petey Greene, Don Cheadle
Dewey Hughes, Chiwetel Ejiofor
Vernell Watson, Taraji P. Henson
'Nighthawk' Bob Terry, Cedric the Entertainer
E.G. Sonderling, Martin Sheen
Sunny Jim Kelsey, Vondie Curtis-Hall
Casting is excellent. IMDb gives it a 7.4, which is quite a kudo considering how low this film flew under everyone's radar. I particularly enjoyed Cheadle and Taraji Henson, who plays Greene's equally assertive girl friend, Vernell. Part of me wonders why this movie doesn't seem to be a big deal with critics and the general public, despite the high rating. I mean, I certainly don't remember nearly 10 years ago that the Academy made any sort of fuss. [While other award organizations gave it 13 nominations and 9 wins.]
Nor had I ever heard of Petey Greene in all my years of some sensitivity to political ideas and commentary. Was he too hot to handle? Did powerful people want to keep him bottled up? Maybe, maybe not. No sense in getting conspiratorial about it. But I'll definitely be alert to reading further to see how one Pete Greene matured as a political thinker/critic.
It's a great movie, a find, superbly entertaining and insightful. I'm getting the DVD for my home collection. I love the throwback to the times, which were my own young-man prime time as well. The styles, the days of Super Fly and Shaft (can you dig it?), bright colors and big collars, fur coats, platform shoes. I remember the lingo. Talk to Me is vastly underrated, IMHO, and gives viewers a bona fide peak at how it really was.
This post has been read 969 times!