Exciting old-style action-adventure movie with a lingering message (9/10)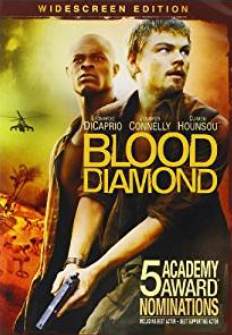 As I was growing up in middle class America in the 1950s and 1960s, I got to see plenty of movies.  We lived in Overland Park, Kansas, a post-WW2 suburb of the Kansas City metro area.  The little town was something out of a Norman Rockwell painting or a Jean Shepherd—author behind the movie, A Christmas Story—reminiscence.
Leonardo DiCaprio … Danny Archer
Djimon Hounsou … Solomon Vandy
Jennifer Connelly … Maddy Bowen
The small downtown included TG&Y (dime store), two drug stores (a Rexall outlet and locally owned "McDaniels"), A&P Groceries, a Sears catalog-order store, an A&W Root Beer franchise, a couple of restaurants, etc… and the Overland Park Theater.  When we were just kids, Mom and Pop would shuttle my brother and me to the matinees on Saturday.
I suppose then they went shopping or something—wink, wink—but we never thought to ask.  When you're a child of nine or even nineteen: the universe revolves around you and your parents do not have lives apart from seeing to your every need or whim.  Anyway, sorry to get off track. Continue reading →