Exciting old-style action-adventure movie with a lingering message (9/10)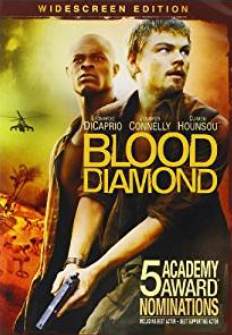 As I was growing up in middle class America in the 1950s and 1960s, I got to see plenty of movies.  We lived in Overland Park, Kansas, a post-WW2 suburb of the Kansas City metro area.  The little town was something out of a Norman Rockwell painting or a Jean Shepherd—author behind the movie, A Christmas Story—reminiscence.
Leonardo DiCaprio … Danny Archer
Djimon Hounsou … Solomon Vandy
Jennifer Connelly … Maddy Bowen
The small downtown included TG&Y (dime store), two drug stores (a Rexall outlet and locally owned "McDaniels"), A&P Groceries, a Sears catalog-order store, an A&W Root Beer franchise, a couple of restaurants, etc… and the Overland Park Theater.  When we were just kids, Mom and Pop would shuttle my brother and me to the matinees on Saturday.
I suppose then they went shopping or something—wink, wink—but we never thought to ask.  When you're a child of nine or even nineteen: the universe revolves around you and your parents do not have lives apart from seeing to your every need or whim.  Anyway, sorry to get off track.
Though these matinee movies were generally oriented toward us Boomer children, still we got to see many of the major adult-oriented flicks of the time.
I mean adult in 1950s terms.  There wasn't any rating system.  You really didn't need one considering how deep the sexual 'restraint' ran in my parents' generation.  (The 1963 movie Tom Jones for example was considered racy—I remember I snuck away with a friend and his older brother to an art theater in Kansas City to see it.)
Still off the track…
What I want to say is many of the films we saw as kids were action-adventure with big stars of the day, such as Robert Mitchum, John Wayne, Gregory Peck, Cary Grant, etc., and a host of leading ladies that the good guys either had fun with—of course without fornication—or saved from distress: Susan Hayward, Marilyn Monroe, Deborah Kerr, Shirley MacLaine, and so on.
Blood Diamond is a throwback sort of movie to that action-adventure genre I remember as a kid.  We don't see it much anymore.  Action movies like the Indiana Jones series or Jurassic Park, as entertaining as they are, aren't intended to be taken seriously.
Gregory Peck (and Susan Hayward and Ava Gardner) in The Snows of Kilimanjaro, Marilyn Monroe (and Robert Mitchum) in River of No Return, Robert Mitchum (and Deborah Kerr) in The Sundowners, even John Wayne in Hatari, and however many other larger-budget action movies… now these were serious movies.  They were big draws, too, making lots of money for the studios.  I watched them enthralled, thinking "I want to do adventurous things like that with my life."
Blood Diamond gives me the same feeling of serious adventure.  But I'm guessing most Americans will walk out of the movie saying "Whew! And I thought things were bad in our country."
How can any simple, decent family man get ahead?
The setting is based on real political turmoil in the country of Sierra Leone in 1999.  Danny Archer is a native born Rhodesian (now Zimbabwe).  Following a family tragedy incident to the rebellions against the British colonial government, Archer becomes a soldier of fortune and eventually a diamond smuggler.
Blood diamonds refer to diamonds sold by guerilla warlords for money and weapons.  Danny doesn't have any compunctions about moving such diamonds into a neighboring country where legal restrictions do not impede their sale to the big European diamond houses.  In fact he's managed to climb pretty far up the food chain in the business, dealing with some of the industry bigwigs.
During a brief government incarceration, Danny comes to believe a fellow prisoner, poor fisherman Solomon Vandy (Djimon Hounsou), has secreted away a multicarat pink-hued diamond worth millions of dollars.  Vandy has been displaced by an vicious warlord gang, and his family taken from him.  Danny makes a deal with Vandy to find Vandy's family if Vandy will take him to the diamond.
At some point Danny runs into Maddy Bowen (Jennifer Connelly).  Maddy is a Christiane Amanpour type, a dedicated attractive superjournalist who thrives on the adrenalin of danger.  She is in Sierra Leone to investigate and expose the illicit diamond trade, hopefully to bring down its profiteers.  Archer finds he must rely on her resources to help Vandy find his family, in return for which he promises to give her detailed information on who's who in this sordid enterprise—of which, of course, he's a "who".
Her idealism and courage also lead him to question the morality of his actions, indeed, to wonder if he's been going down the wrong path life-wise for quite some time.
In the meantime, Vandy still wants his wife and family back, and really couldn't care less about the big rock.
The movie is actually quite complex motivationally and the three main characters are amazing in different ways.  Archer, for one thing, has heroic physical courage and sophisticated combat skills.  The action sequences are well executed and entirely believable.  Honsou does a terrific job playing the singleminded, devoted father.  (Both DiCaprio and Honsou received Oscar nominations.)
The movie ends as well as it can.
Highly satisfying effort on all fronts.
Save
This post has been read 800 times!