Memoir of a Family and Culture in Crisis
By JD Vance, reviewed by Brian R. Wright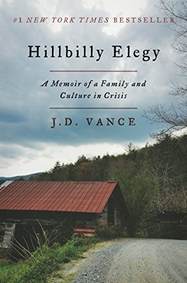 The reviews of Hillbilly Elegy have been almost universally positive, expressing an appreciation in particular of "the real people who are kept out of sight by academic abstractions" (per Peter Thiel, author of Zero to One). We are speaking of the southeastern US 'hillbillies,' who come from Scots-Irish stock and are a major political-social grouping in America. Mr. Vance gives us a mem- orable down to earth rendering of a culture that is certainly relegated by the elites of the political class into facts and figures. He gives us a bird's eye view, a gonzo journalistic, 'you are there,' day by day account of his own days of growing up from his Kentucky homeland and southern Ohio.
From the front jacket: Hillbilly Elegy is a passionate and personal analysis of a culture in crisis—that of poor, white [mainly, Appalachian—ed.] Americans. The disintegration of this group, a process that has been slowly occurring now for over 40 years, has been reported with growing frequency and alarm, but has never been written about as searingly from the inside. In Hillbilly Elegy, JD Vance tells the true story of what a social, regional, and class decline feels like when you were born with it hanging around your neck.
Myself hailing from middle-class Overland Park, Kansas, then mainly the Detroit, Michigan, suburbs as I reached my 20s, I have known many people who 'came from the south,' to work in the automotive world and the more industrialized north. In fact, one of the people I most respect in the world was my first real boss, in the mid-1970s aerospace, Jim Cline, hailing from good ol' boy Hickory, North Carolina. I can hear the drawl now. Vance writes of his kin: Continue reading →