Backyard: Reflections on Baseball and Boyhood
By Mike Collins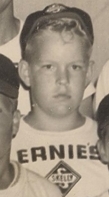 The house I grew up in, among other things, featured a huge back yard. Our neighbors on both sides were blessed with precisely equal lot sizes and, even better, none felt the need to enclose their property with fences.
That vast expanse of real estate served many functions.  Neighborhood gatherings of a magnitude that required all three parcels – barbeques, picnics, snowball fights and all manner of things relegated to fond memory took place there. Annual fireworks displays that pitted the skills of the biggest kids in the neighborhood (the collectivity known to us as our fathers) against each other were a revered annual event.
The one preeminent and defining use of that grand arena commenced in the spring of every year when a prehistoric Field of Dreams magically appeared immediately after the snow melted.
The first year we lived there was the beginning and the end of my father's vain attempt to cure me of being left-handed.  He threw countless fly balls to me that I caught with my face because his right-handed glove was apparently faulty. He was mortified at my monumentally feeble attempts to throw or bat right-handed. References to spending my time playing with my sister and her dolls were frequently issued. Continue reading →