For its time a bold, clever cry for Nature __ 8/10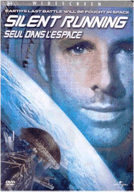 Announcer: On this first day of a new century we humbly beg forgiveness and dedicate these last forests of our once beautiful nation to the hope that they will one day return and grace our foul earth. Until that day may God bless these gardens and the brave men who care for them.
Freeman Lowell: It calls back a time when there were flowers all over the Earth… and there were valleys. And there were plains of tall green grass that you could lie down in – you could go to sleep in. And there were blue skies, and there was fresh air… and there were things growing all over the place, not just in some domed enclosures blasted some millions of miles out in to space.
Freeman Lowell: [gesturing toward a picture] Look on the wall behind you. Look at that little girl's face. I know you've seen it. But you know what she's never going to be able to see? She's never going to be able to see the simple wonder of a leaf in her hand. Because there's not going to be any trees. Now you think about that. Continue reading →