by Tony Hillerman
2006, Harper Collins, 276 pages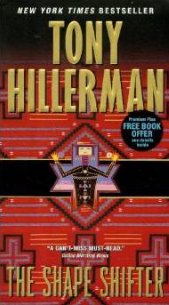 Tony Hillerman started writing his series about Navajo tribal policeman-detective Lt. Joe Leaphorn with The Blessing Way in 1970. Later Leaphorn, the "Legendary Lieutenant," retires and Hillerman replaces him with an equally deeply refreshing character, Officer Jim Chee.
The principal setting for the Leaphorn/Chee crime novels is the Four Corners, a large area of high plains and mountainous terrain encompassing NE Arizona, SE Utah, SW Colorado, and NW N. Mexico.  This area is home to the Navajo reservation, the Hopis, and other American Indian nations.
Over the years, Mr. Hillerman, winner of several awards for mystery writing, has attracted a dedicated following; each new novel appears regularly on the New York Times bestseller list.  The Shape Shifter is no exception.  Continue reading →