International campaign is criminalizing criticism of Israel as 'antisemitism'
By Alison Weir (of If Americans Knew) [original with links here]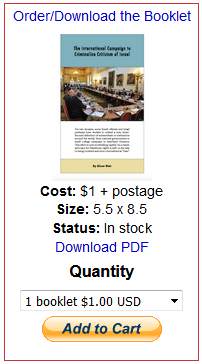 As the world has witnessed the oppression and ethnic cleansing of Palestinians, many people have risen in protest. In response, the Israeli government and certain of its advocates have conducted a campaign to crack down on this activism, running roughshod over civil liberties (and the English language) in the process.
The mechanism of this crackdown is the redefinition of "antisemitism"[1] to include criticism of Israel, and the insertion of this definition into the bodies of law of various countries.
Where most people would consider "antisemitism" to mean bigotry against Jewish people (and rightly consider it abhorrent), for two decades a campaign has been underway to replace that definition with an Israel-centric definition. That definition can then be used to block speech and activism in support of Palestinian human rights as "hate." Various groups are applying this definition in law enforcement evaluations of possible crimes.
Proponents of this Israel-centric definition have promoted it step by step in various arenas, from the U.S. State Department and European governments to local governments around the U.S. and universities.
While this effort has taken place over the last two decades, it is snowballing rapidly at this time. The definition is increasingly being used to curtail free speech and academic freedom, as well as political activism. Continue reading →