Transcript of speech by her lawyer, Wolfram Nahrath, accepting on her behalf
Courtesy Rudy List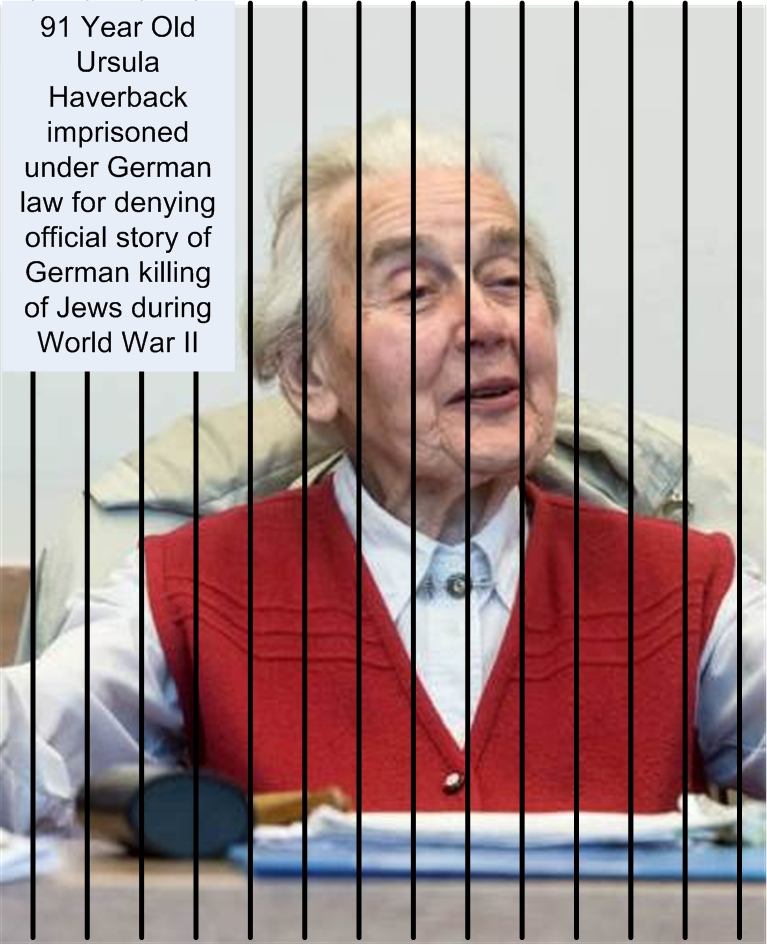 On the 25th. January 2019, at a ceremony at Vichy, France, the International Robert Faurisson prize for 2019 was awarded to Ursula Haverbeck.
The German lawyer, Wolfram Nahrath – who has represented Frau Haverbeck in innumerable trials – accepted the International Robert Faurisson prize in her place. In his Laudatio Herr Nahrath acknowledged, that it was a great honour to receive the prize on behalf of his client.
The full text of the Laudatio is as follows:
Ladies and Gentlemen, esteemed committee, Michele Lady Renouf, Master Fallisi, the Honourable Mr. Nichols.
It is for me a great honour to accept this prize on behalf of my client.
My client, Frau Ursula Haverbeck-Wetzel, last year celebrated her ninetieth birthday, but it is not age or physical infirmity that has hindered her from traveling to Vichy.
No, she finds herself in prison in the Federal Republic of Germany. Last year she was condemned in the first instance to three and a half years' incarceration. A series of further trials against her have been planned and so it is not impossible that she may yet be condemned to further years in prison. The possibility is not to be excluded that she may spend the rest of her life in prison and die in prison.
Now everybody is going to ask, what type of fearful and dangerous criminal is my client who has the criminal energy still to commit crimes at her advanced age. Is she the Godmother of a mafia-type criminal organisation ? Has she robbed, murdered, wounded, cheated, stolen, molested children, dealt in drugs, organised human-trafficking ?
No, she has committed none of these offences. But in reference to her rights of Freedom of Opinion, Freedom of Speech and Freedom of Enquiry, she has exercised her personal right publicly to question and to comment on one particular event, limited to a particular time and place. She has done so in public and in her writings and at meetings where she was the guest-speaker and she has distributed her literature widely. And, Yes ? – just for this, people are going to ask, you can be locked up for years in jail in the most free (and liberal) judicial ordering that has ever existed in Germany ? Yes, this has happened and this is the fate of the recipient of this prize.
Originally Frau Haverbeck-Wetzel was part of the humanist movement and for years she was active in protecting the environment.
But it is not a question of just any history. No we are dealing here with the narrative of an organised mass-extermination of human beings, mainly Jewish persons, employing poison gas and carried out on an industrial scale right across Europe up till 1945, and all as ordered by the authorities of the Third Reich. You will all know the figure of Six Million which over time has become the symbol of this narrative.
Since the year 1994 it has been a criminal offence in the Federal Republic of Germany to deny or to approve or to minimise this particular event. The penalty for each offence can result in a five years' prison sentence. For each offence. The Law permits that an adult may be incarcerated for up to a total of fifteen years.
It is not my intention here to give a lecture on the political criminal laws in Germany and other such lands. Allow me however to express some thoughts.
The Federal Republic and its Basic Law [which serves as the Constitution] has now been in existence for 70 years and the Federal Republic managed successfully for its first forty years without possessing any such provision in Law, [criminalising "disputing, approving, minimising" that event], without there being any pogroms or other such outrages committed against Jewish persons.
It had taken ten years of continuing insidious agitation organised by just a few individuals before the German Parliament passed this law. For ten long years it was rejected. There was massive concern that the proposal was contrary to the Basic Law and to human rights. By employing all the means at their disposal the handful campaigners – I shall call them here the shop-keepers – got what they wanted.
Even after its embodiment in German Law, distinguished constitutional jurists and even former judges having served on the Federal Constitutional Court at Karlsruhe opposed this provision; and even prominent persons from the so-called "victim-folk" criticised this new provision and demanded its abrogation; many of them even deny the so-called "Holocaust".
In vain, the provision is still to this day part of the criminal code and many have been jailed because of it, including she who has been awarded this prize. In spite of her age, she was shown no clemency. Just a few days ago, she, who no longer has any living relatives -they have all passed away – she was refused permission to visit the grave of her deceased husband, the humanist Werner Haverbeck. She had wanted to hold a prayer there at the New Year. Refused.
Ladies and Gentlemen I am speaking of the Federal Republic of Germany – and not of some despotic banana-republic somewhere in the world.
I am of the opinion that the provision Article 130, section 3 of the German Criminal Code does not belong in our Law books. [Article 130, section 3 criminalises "disputing, approving, minimising" the Six Million]. The manner in which it became Law and the motivation of those who made Law are in flagrant violation of the basic requirement of every criminal code in which the conduct of an individual can only be punished if there is a legitimate criminal case to answer. There is no such legitimacy for Article 130, section 3, and not even partially so.
The fundamental question is: why may I not dispute and debate historical events ? Who finds such a prohibition useful ? Certainly not the man who wants his Freedom of Speech.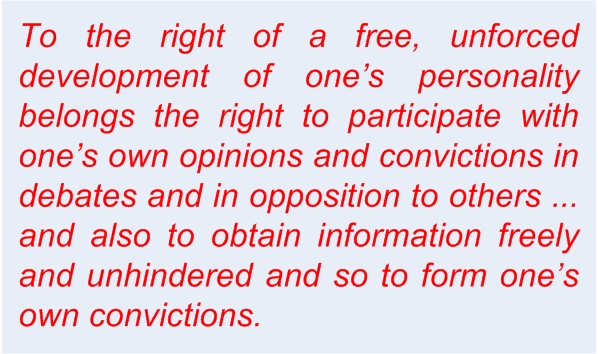 I myself was born in 1963. I have not personally experienced this history. At school and in University I was educated to question everything and to freely debate. That was the Credo of our time. At school and as a student we were allowed to dispute, to doubt and deny as much as we wanted without being punished. Any restrictions placed on what we might think or say or on what books or other literature we might read, such restrictions would have seen as a sacrilege against our rights to Freedom – and this remains so today.
Such prohibitions make the thinking, enquiring man only suspicious.
To the right of a free, unforced development of one's personality belongs the right to participate with one's own opinions and convictions in debates and in opposition to others all within the law and also to obtain information freely and unhindered and so to form one's own convictions.
Finally it is an inherent right of every individual to defend the community to which he belongs – that is, his people – from false and wicked accusations including the wickedest.
Therefore he has the right to attempt to argue against the accusation that as an historical fact members of his people had committed a genocide and thereby covered themselves in shame. If subjected to the threat of years' long imprisonment he can not defend his people, then his soul will sicken.
To find oneself confronted with legally enforced prohibitions of many sorts, thought-prohibitions, information-prohibitions, research-prohibitions, and Freedom of speech prohibitions, all focused on a very special event, and when under compulsion of severe punishment one to have to remain silent, even though one is convinced of a very different understanding of the matter, all this creates an oppression which can immediately lead to severe crises of the personality, or in any case can harm the free development of the personality. Such oppression is alien to the contemporary Justice system.
This is what happens, I would like once more to stress, when one wants to defend one's people and its history from the most slanderous of accusations.
I will permit myself to briefly classify this law. It is a law born from the religion of the book. And such a law, I reject most fundamentally.
I ask for forgiveness that I as the defence lawyer for Frau Haverbeck have not been able to keep her out of jail.
Ladies and Gentlemen, members of the esteemed committee,
This is the first time that this prize has been awarded; and it shows the generosity of the sponsors and their determination to establish Peace in Freedom. What is special in this first case is that she to whom the award has been given, is a German woman. A woman from the so-called guilty, criminal-folk. A woman of noble spirit, full of the joy of life and always laughing, good natured and courageous.
If not already previously, then by the award of this prize is she ennobled. Ennobled on French soil by men and women from a people who have had to fight many bloody and bitter wars with Germany; ennobled as a German woman campaigning for the rights of Freedom.
This is for me and my humiliated and downcast but so beloved German folk an especially high honour. In the name of she who has been given this award, I thank the esteemed committee from depths of my soul. A sign to give hope for Freedom and Peace.
Wolfram Nahrath, German Lawyer.
This post has been read 607 times!