Transcript of speech by her lawyer, Wolfram Nahrath, accepting on her behalf
Courtesy Rudy List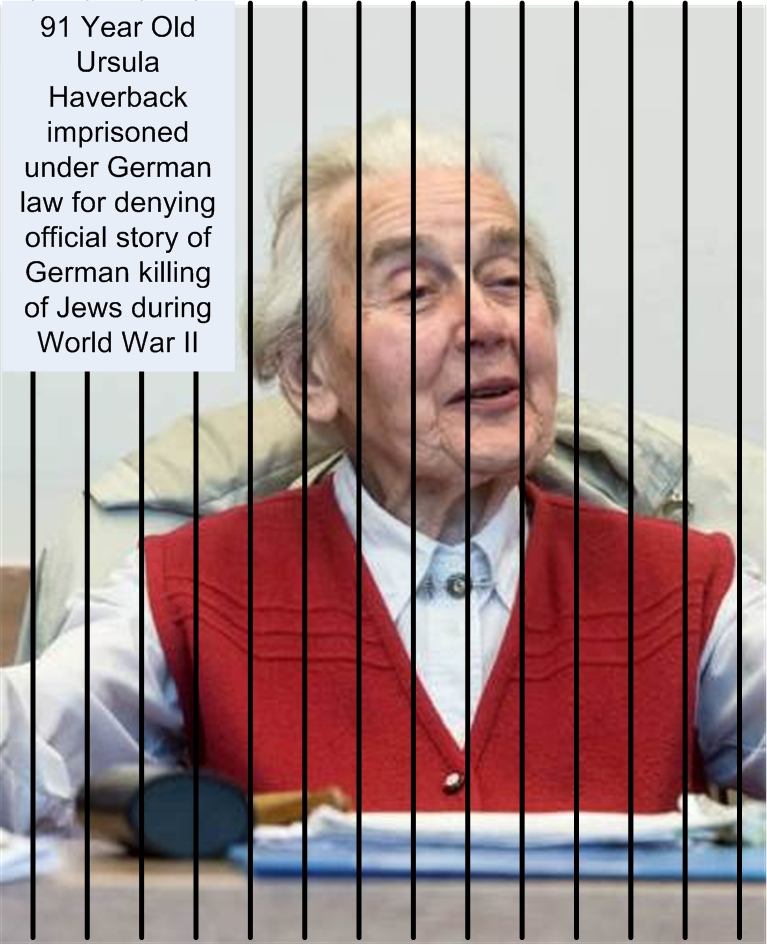 On the 25th. January 2019, at a ceremony at Vichy, France, the International Robert Faurisson prize for 2019 was awarded to Ursula Haverbeck.
The German lawyer, Wolfram Nahrath – who has represented Frau Haverbeck in innumerable trials – accepted the International Robert Faurisson prize in her place. In his Laudatio Herr Nahrath acknowledged, that it was a great honour to receive the prize on behalf of his client.
The full text of the Laudatio is as follows:
Ladies and Gentlemen, esteemed committee, Michele Lady Renouf, Master Fallisi, the Honourable Mr. Nichols.
It is for me a great honour to accept this prize on behalf of my client.
My client, Frau Ursula Haverbeck-Wetzel, last year celebrated her ninetieth birthday, but it is not age or physical infirmity that has hindered her from traveling to Vichy.
No, she finds herself in prison in the Federal Republic of Germany. Last year she was condemned in the first instance to three and a half years' incarceration. A series of further trials against her have been planned and so it is not impossible that she may yet be condemned to further years in prison. The possibility is not to be excluded that she may spend the rest of her life in prison and die in prison.
Now everybody is going to ask, what type of fearful and dangerous criminal is my client who has the criminal energy still to commit crimes at her advanced age. Is she the Godmother of a mafia-type criminal organisation ? Has she robbed, murdered, wounded, cheated, stolen, molested children, dealt in drugs, organised human-trafficking ?
No, she has committed none of these offences. But in reference to her rights of Freedom of Opinion, Freedom of Speech and Freedom of Enquiry, she has exercised her personal right publicly to question and to comment on one particular event, limited to a particular time and place. She has done so in public and in her writings and at meetings where she was the guest-speaker and she has distributed her literature widely. And, Yes ? – just for this, people are going to ask, you can be locked up for years in jail in the most free (and liberal) judicial ordering that has ever existed in Germany ? Yes, this has happened and this is the fate of the recipient of this prize. Continue reading →