Police smash into residence of gun activist,
deploy flash bang grenade
by Paul Joseph Watson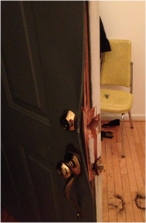 Days after Adam Kokesh staged an open carry protest by loading a shotgun in Washington DC, "storm trooper" police raided the former Marine's home last night, smashing in his door and deploying a flash bang grenade before arresting Kokesh.
According to a press release issued by Kokesh's Adam vs the Man media team, "Numerous police vehicles, including a light armored vehicle and two low-flying helicopters barricaded Adam's street. More than 20 armored SWAT team members surrounded the house, as well as a number of detectives, and plainclothes officers. Assault rifles were aimed on all members of the team as they were handcuffed without being told why they were detained. Masked and armored police in full "Storm Trooper" gear flooded in and ransacked the residence. The team was cordoned in a front room, while Adam was pulled aside for questioning."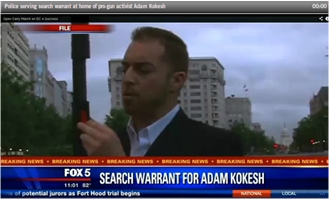 Roads around Kokesh's home, which also contains his broadcast studio, were blocked off and other residents were told to stay indoors. The raid was conducted by Herndon police as well as US Parks Police, an arm of Homeland Security.
Kokesh's team alleges that police also assaulted Kokesh by kicking him to the floor when he politely asked to use the bathroom. Throughout the ordeal "police repeatedly showed a volatile desire to initiate aggressive, forceful conduct with detainees," according to the press release.
Cops searched every corner of the residence while confiscating cellphones and personal items "with force". A safe inside the residence was also forced open and the contents seized.
At around midnight, over four hours after the raid began, police left the premises and Kokesh was taken to Fairfax County Adult Detention Center.
"The ADAM VS THE MAN Team will be continuing production on the podcast and the Youtube channel as long as Adam remains imprisoned for an act of civil disobedience. We will continue to spread the message of liberty, self ownership, and the non-aggression principle regardless of the government's relentless attacks on our operation. We will continue to combat its desperate attempts to crush a worldwide, revolutionary shift in the people's understanding of the state's illegitimacy—after all, good ideas don't require force," states the press release.
The incident took place just hours after Kokesh had recorded an interview with Alex Jones for Infowars Nightly News.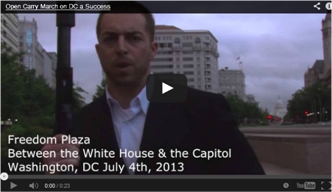 According to Kokesh's team, "The officers used a battering ram to knock in the door after two knocks, and did not announce that they had a warrant." The raid followed the publishing of a YouTube video on July 4 in which Kokesh is seen to load a 12 gauge shotgun before announcing "We are the final American revolution. See you next Independence Day."
The video was filmed at Freedom Plaza, just down the street from the White House. Under DC law, it is illegal to carry firearms in public and Kokesh could face up to five years in a federal prison.
Kokesh's roommate Darryl Young pointed out that whereas Virginia allows open carry, in DC only politicians are allowed to protect themselves with guns.
"The point is we have the right to bear arms in all states," he said. "We shouldn't set standards of laws by imaginary lines called borders. In the state of Virginia, it's an open carry state where you can legally open carry, but in the District [of Columbia], the only people allowed to walk with firearms are the criminals themselves."
In June 2008, the Supreme Court affirmed the Court of Appeals for the D.C. Circuit in Heller v. District of Columbia, ruling that the Second Amendment protects an individual's right to keep and bear arms and that the Firearms Control Regulations Act of 1975 is unconstitutional. However, authorities in DC have largely ignored the ruling and still impose draconian measures on anyone who wants to own a firearm….
Kokesh's open carry protest stemmed out of his call for a "new American revolution" that would have involved a march on all 50 state capitols. The former Iraq vet had previously planned to lead an armed march on Washington DC on Independence Day.
Kokesh later revised the plan after he was arrested in May for little more than exercising his First Amendment at a pro-marijuana legalization rally in Philadelphia. "When it comes to this event being executed properly," Kokesh told the Alex Jones Show, "when the government has already escalated the violent tactics against me personally as an organizer, I can't in good conscience go forward with a plan that is so centrally dependent and not open source."
Kokesh's supporters are urging people call the US Parks Police non-emergency number at (202) 619 7105 to demand Adam's release "and that charges be placed on the individuals that committed a B&E, vandalism, destruction of property, theft, and kidnapped Adam at our home."
The YouTube video that pre-empted the raid can be viewed below.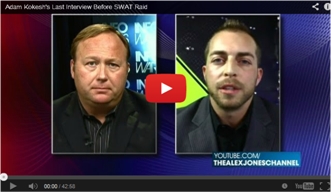 Kokesh also appeared as a guest on Infowars Nightly News with Alex Jones just hours before the raid.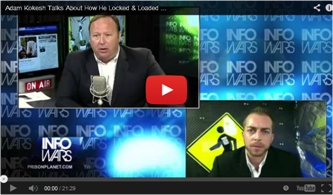 Kokesh also appeared on the Alex Jones Show on Monday to discuss his DC open carry protest.
Full column on Infowars.com here

---
This post has been read 1281 times!