It's Official: NDAA Means Gulag
NDAA the latest statute giving GOTUS[1]
'legal' 'right' to destroy us without due process
Excerpts from Naomi Wolf, Mike Adams
---
Editor's Note: Two excerpts from journalistic VIPs who demonstrate quite clearly that the recent National Defense Authorization Act is preparation for imminent martial law on and mass detention of Americans in a FEMA, corporate-constructed homeland gulag. The target of IDWOT (indefinite detention without trial) provisions of the defense funding bill is 'covered persons.' In other words, terrorists = anyone who questions the state power… and everyone else we wish to enslave and crush on the whim of a tyrant and his thugs.
---
NDAA a clear and present danger to American liberty
The US is sleepwalking into becoming a police state, where, like a pre-Magna Carta monarch, the president can lock up anyone
by Naomi Wolf Thursday, March 1, 2012, The Guardian/UK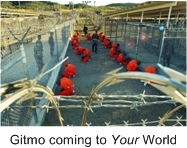 Yes, the worst things you may have heard about the National Defense Authorization Act, which has formally ended 254 years of democracy in the United States of America, and driven a stake through the heart of the Bill of Rights, are all really true. The act passed with large margins in both the House and the Senate on the last day of last year – even as tens of thousands of Americans were frantically begging their representatives to secure Americans' habeas corpus rights in the final version. NDAA critics say that it enables ordinary US citizens to be treated like 'enemy combatants' in Guantánamo.
It does indeed – contrary to the many flatout-false form letters I have seen that both senators and representatives sent to their constituents, misleading them about the fact that the NDAA destroys their due process rights. Under the act, anyone can be described as a 'belligerent". [In the languare of the act they are 'covered persons.']
And with a new bill now being introduced to make it a crime to protest in a way that disrupts any government process – or to get close to anyone with secret service protection – the push to legally lock down the United Police States is in full force.
Overstated? Let's be clear: the NDAA grants the president the power to kidnap any American anywhere in the United States and hold him or her in prison forever without trial. The president's own signing statement, incredibly, confirmed that he had that power. As I have been warning since 2006: there is not a country on the planet that you can name that has ever set in place a system of torture, and of detention without trial, for an "other", supposedly external threat that did not end up using it pretty quickly on its own citizens.
And Guantánamo has indeed come home: Guantánamo is in our front yards now and our workplaces; it did not even take much more than half a decade. On 1 March, the NDAA will go into effect – if a judicial hearing scheduled for this week does not block it – and no one in America, no US citizen, will be safe from being detained indefinitely – in effect, "disappeared."
As former Reagan official, now Ron Paul supporter, Bruce Fein points out, on 1 March, we won't just lose the bill of rights; we will lose due process altogether. We will be back at the place where we were, in terms of legal tradition, before the signing of the Magna Carta – when kings could throw people in prison at will, to rot there forever. If we had cared more about what was being done to brown people with Muslim names on a Cuban coastline, and raised our voices louder against their having been held without charge for years, or against their being tried in kangaroo courts called military tribunals, we might now be safer now from a new law mandating for us also the threat of abduction and fear of perpetual incarceration….
Full article from the Guardian UK here.
---
Yes, the NDAA does apply to Americans,
and here's the text that says so
In the aftermath of the signing of the NDAA by the traitorous President Obama, some citizens remain completely hoodwinked by the language of the bill, running around the Internet screaming that the law "does not apply to American citizens."
by Mike Adams Sunday, January 01, 2012, Natural News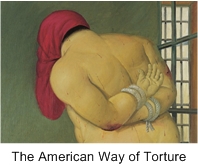 … This is, naturally, part of the side effect of having such a dumbed-down education system where people can't even parse the English language anymore. If you read the bill and understand what it says, it clearly offers absolutely no protections of U.S. citizens. In fact, it affirms that Americans are subjected to indefinite detainment under "existing authorities."
…
As everyone who studies history well knows, the Patriot Act already establishes an "existing authority" that anyone suspected of being involved in terrorist-related activities can be arrested and detained without trial. If you don't believe me, just Google it yourself. This is not a debated issue; it's widely recognized.
Furthermore, President Obama already insists that he has the authority to kill American citizens merely by decree! As Reuters reported on October 5, 2011, a "secret panel" of government officials (who report to the President) can decide to place an American citizen on a "kill list" and then murder that person, without trial, without due process, and without even being arrested.
(…)
Thus, the authority already exists, you see, and the NDAA openly states that "Nothing in this section shall be construed to affect existing AUTHORITIES…" In other words, the NDAA does nothing to protect American citizens, and it piggy-backs on the Patriot Act as well as Obama's executive "kill list" justifications to essentially place all Americans in the crosshairs of government murderers or military action.
Full article from Natural News.
P
lease read the above articles and resolve to join in the common effort of all freedom-loving people to end this tyranny emergency, NOW.
[1] GOTUS = Government of the United States
This post has been read 1789 times!