Human costs of the corporotocracy 7.5/10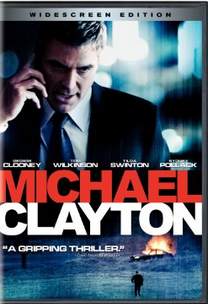 Politically probing George Clooney's Michael Clayton arrives on the big screen just in time to greet the winter.  And it has a theme that befits the falling of the leaves and the dimming of the light: a topnotch Mr. Fixit working for a high-powered New York law firm (Kenner, Bach & Ledeen) runs into an assignment that causes him to consider whether the way of life he has chosen is the way his life is meant to be… or the way his particular corporate world is meant to be.
We get a profile of Clayton (Clooney) early as his fast-lane excellence is contrasted with a personal life going down the tubes: divorced, financial troubles, gambling problems, having difficulty relating to the son he adores.  On the fast-lane side, we see how deftly he resolves incidents that can be deeply embarrassing for his big-money corporate clients: traffic accidents, addictions, infidelities, immigration barriers.
But as smooth and polished as Clayton is, the true secret to his success lies in his honesty and realism.  One client complains that Clayton isn't the miracle worker that Kenner, Bach & Ledeen's (KBR's) CEO Marty Bach, a hard-headed, grizzled weasel played perfectly by Sydney Pollack, has represented him to be.  Clayton replies:
"I'm not a miracle worker, I'm a janitor."
Tom Wilkinson … Arthur Edens
Michael O'Keefe … Barry Grissom
Sydney Pollack … Marty Bach
Tilda Swinton … Karen Crowder
George Clooney … Michael Clayton
Which is part of the theme of the film, too.  Namely, if you clean up messes all the time, you tend to wind up more than a little messed up yourself.
This is more a character movie than a plot movie or even a message movie.  Those seeking to be entertained by left-libertarian-oriented skewering of the corporate life form will be disappointed, even though the essential characteristics of power-corporations—I make a distinction between large, national politically designed corporate enterprises and local, independent incorporated businesses—are elaborated mercilessly.  These characteristics are not benign; further they exact a high cost on people at the top of the food chain as well as the bottom.
The "plot environment" of the character development involves a highly visible liability class-action lawsuit filed somewhere in Wisconsin against the biggest client of KBR.  The client is an agricultural giant named U/North (think Archer Daniels Midland) which has its own substantial legal-counsel department, headed by a woman Karen Crowder (Tilda Swinton). Ms. Crowder is the point of contact to KBR; she's exquisitely imperious and demanding.
The scenes showing her meticulous preparations for striking the power pose, and her inner fears, really give you the essence of the flick: even if you're the lead dog, you're still stuck having to do things that violate normal codes of human decency.  Swinton makes the role her own and really conveys the angst that her character has to swallow day after day.
Back in Wisconsin, KBR's best lead attorney, Arthur Eden (Tom Wilkinson), working to reach a reasonable settlement for U/North, has lost it.  He's a bipolar sort of dude who went off his meds and seems to have found religion in siding with the plaintiffs.  This breach of loyalty brings Clayton to town on the highest priority; they're longtime friends, but Clayton tries to lay it out for Eden in the straightest terms: either get right with the firm or take an ignominious hike.
How is that going to play out?
So you become wrapped up in the fates of the three characters: Michael Clayton, Karen Crowder, and Arthur Eden.  Not to mention appreciating their families and loved ones.  It's an interesting question: which of the characters do you care for most?
In the background of these genuine humans you also witness the machine-like behavior of KBR CEO Marty Bach and U/North's CEO, as well, played with a Dick Cheneyesque coldness by Ken Howard.  The CEOs have obviously exhausted any human qualities long ago, becoming, really, elevated robots—alternately snarling or smiling according to some internally acculturated computer program, much like agents in The Matrix.  As the embodiment of the corporate maxim to acquire ducats by any means necessary, they're well beyond human compassion.
I'm guessing the critics will be all a bubble over this movie for its honest depiction of the human condition in a realistic modern business setting.  The cinematography captures New York in bleak winter, both the city itself and the little middle-class bedroom towns within a 50-75 mile radius.  Direction and acting are first rate, low key in yet powerful in effect.  Perhaps not my favorite kind of movie, but a fine example of the art.
Save
Save
Save
Save
Save
Save
This post has been read 842 times!