Human costs of the corporotocracy 7.5/10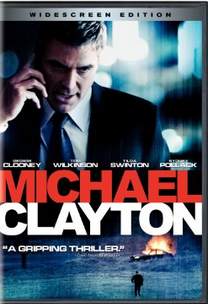 Politically probing George Clooney's Michael Clayton arrives on the big screen just in time to greet the winter.  And it has a theme that befits the falling of the leaves and the dimming of the light: a topnotch Mr. Fixit working for a high-powered New York law firm (Kenner, Bach & Ledeen) runs into an assignment that causes him to consider whether the way of life he has chosen is the way his life is meant to be… or the way his particular corporate world is meant to be.
We get a profile of Clayton (Clooney) early as his fast-lane excellence is contrasted with a personal life going down the tubes: divorced, financial troubles, gambling problems, having difficulty relating to the son he adores.  On the fast-lane side, we see how deftly he resolves incidents that can be deeply embarrassing for his big-money corporate clients: traffic accidents, addictions, infidelities, immigration barriers.
But as smooth and polished as Clayton is, the true secret to his success lies in his honesty and realism.  One client complains that Clayton isn't the miracle worker that Kenner, Bach & Ledeen's (KBR's) CEO Marty Bach, a hard-headed, grizzled weasel played perfectly by Sydney Pollack, has represented him to be.  Clayton replies: Continue reading →