"Truth is only treason in the empire of lies." (10/10)
Directed by Oliver Stone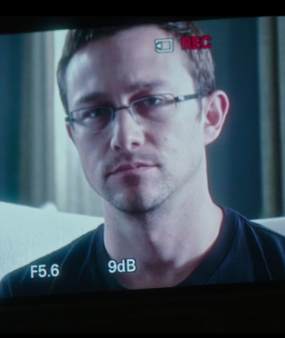 Watching Snowden will be a life-changing experience for just about anyone who cares about civil liberty… around the world as well as on (and inside) our own US doorsteps. [The next day I placed these pimple band-aids over the camera lenses on my two computers… even though I have never configured or used my cameras. I'm also thinking about storing my smart phone in the microwave oven when not in use, and regularly sweeping my cat's whiskers for listening devices.] The constant underlying theme that I take away from Snowden: the snooping capabilities being applied to anyone and everyone can literally pick pepper out of gnat feces… from a distance of, like, say, Jupiter.
Stone is brilliant in laying out how unbridled high-tech spying along with the military's super weapons, that we KNOW about—chiefly Hellfire-missile-equipped drones—, is used to basically to murder men, women, and children in any of the 156 countries (staging from the 700+ American military bases) where we have a military presence around the world. Check this photo collage below, I superimposed the prestrike still and the poststrike still from this YouTube video on an American flag.[1]
About the Movie
I do want to get into the details of the horrific attacks that unlimited surveillance sets up in conjunction with terminally corrupt government. But let me begin my review in a more standard way, namely by listing what's so special to me about this once-in-a-lifetime film:
Stone has not lost his touch with casting, cinematography, sound, music, production design, the whole enchilada. He turns what looks like a documentary into a heart-pounding thriller. Perhaps his greatest achievement is packaging the bells and whistles of our high- tech, poli-spy-war machinery into comprehensible dramatic units. He makes the conflict between good and evil crystal clear, never losing the impact of the message.
There's a precise understatement to the film, full of nuance and subtlety, from the beginning… that steadily builds to the heroic mission at the end. Joseph Gordon-Levitt IS Ed Snowden. I can't imagine anyone else fitting this role more closely.
Back to why "'They' absolutely do NOT hate us for our freedom"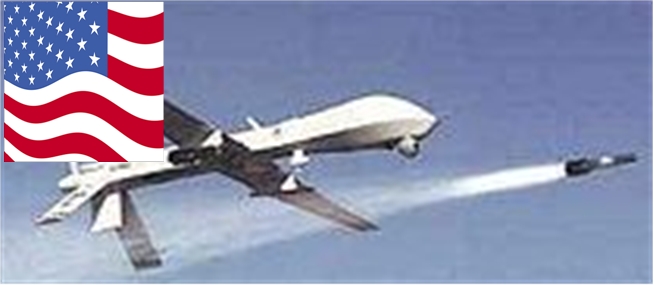 Think for a minute what the US flag must mean to the father of a boy slaughtered by some armchair technician, wielding drones from a cubical in Nevada, following orders of the US imperial command. Who decides the targets? The movie makes it clear: the targets come from a database developed using pure sleaze and intrusive surveillance of individuals in countries with which we are not at war. Here's how it goes (and by the way, an ironclad case for why it matters even though "I have nothing to hide."):
We, the CIA, learn of an upper-class Pakistani banker with absolutely no black marks in his CIA/NSA profile. OK, let's see if we can turn him to work for us. We'll use this sophisticated software that Snowden's NSA counterparts have put together called PRIC (Public Reconnaissance Integration Central).[4] PRIC runs thru <banker's> friends and family, then does another level of search, finding the daughter of <banker's> 2d cousin who has been helping to shield two of her male friends from being served with an unpaid parking ticket subpoena in Karachi. Red Lights! Bells and Whistles!
Immediately our field supervisor, looking to be promoted up the status-and- money food chain to a cozy desk job with all the Washington parties and perks, tells his team to tag the two male friends as potential <terrorist, insurgent, anti-US> targets for UAV (unmanned aerial vehicle) 'visitation.' He instructs a subordinate to notify <banker> that <banker's> second cousin's daughter is suspected of harboring terrorists but we'll go easy on her— i.e. not kill her or her family—if <banker> will play ball, inform on his associates and channel funds into the agency's special projects account.
<Banker>—fully aware of agency black bag and torture ops—caves immediately, names a guy he knows who organizes street protests against the US launching drone missiles into hospitals, kindergartens, and wedding parties… then writes a big fat check payable to CIA. [<Banker> also greases the palms of ambitious field supervisor with serious cash money.] Using PRIC once again, high-level field staff prepares full dossiers on the 2d-cousin daughter, her two parking scofflaw friends, and the protest organizer. Whereabouts of said individuals is then tracked precisely, 24/7, by 'Skycam'; from scouring their personal commun-ications, PRIC et al know exactly where they'll be and when.
Two days later, with perfunctory presidential go-ahead (if he knows he's going to be on the golf course he leaves an automated message to the team leader: "Do what you think is best, and God bless America."), the team goes into action. Or rather, the computer program set up by Snowden-types of the interlocking military-intelligence agencies is initiated via signoff by the field supervisor. At every step of the process, approval is routine, secret, and anonymous. Bang! The drones strike, then double-tap bomb again to kill rescue personnel.
That's how it goes. The movie is much more effective in presenting the mechanics. Is the 2d-cousin daughter spared? Nah! Every body counts in the body count metric. The more dead people, the more promotions and other perks… if you know what I mean. It's one sick, sadistic system—and the current president, the Nobel Peace Prize winner, apparently gets his jollies from it. Even more than Bush II.
Guess what! Like the Terminator, this US/Israel-based global monster of universal surveil- lance and mass murder has its eyes on the ultimate 'Sarah Connor'… I'm talking about you, people in your Leave it to Beaver neighborhood here in the ol' US of A… without concern for status or condition—women, children, old people, pets, season ticketholders. And the monster won't stop unless we stop it. Per Kyle Reese:
"Listen, and understand! That Terminator is out there! It can't be bargained with. It can't be reasoned with. It doesn't feel pity, or remorse, or fear. And it absolutely will… not… stop… ever… until you are dead!"
BTW, all you Trumpster fans out there, the Donald is all wrapped up in pax Americana, and an ardent believer in the faux war on terror narrative. His reaction to Snowden's blowing the whistle on NSA's universal spying was to call Snowden a traitor and say it would be fitting for 'a Great America' to execute him.
What Trump is unwittingly suggesting, and what anyone who can read Tea Leaves 101 knows, is that we the people do not need an election in 2016, rather an mass indictment … of political officials at the highest levels of government and especially in the international technogeek industry who are continuing to ruthlessly violate our liberties and our lives. We need another Nuremberg Trials. Rather a grand jury system to set things aright, not to mention putting the nuclear war genie back in the bottle.
An inspiring and challenging movie for all time. Thank you Ed Snowden, Oliver Stone, and all the rest of you who assembled this labor of love. We the people can (and absolutely must) take it from here.
###
[1] The idea came to me a few days ago, in the quiet comfort of a bar, where I watched the pregame show for Monday Night Football. I saw a couple of hundred people carrying this 50-yard-long American flag probably with a squadron of F15s doing a flyover (but the sound was off so I couldn't tell), and I said to myself, "Why not start a new 'support the troops' campaign using our sacred emblem?"
I imagined a collage [like in that Winona Ryder movie, How to Make an American Quilt (1995)] showing graphic pictures of dead victims of US bombings or bodies mangled and screaming for help. [Then, of course, rescue workers being blown to bits thru drone 'double tap' attacks.] This collage of gut-wrenching images would be sewed LARGE onto all the Old Glories being paraded about town in marching bands or flying from homes and government buildings. Or better yet, displayed as a slideshow on one of those jumbo stadium TVs. THAT would truly bring our teeming throngs of rabid sports fans to their feet!
[2] As much as I hate to bring this up, it's still entirely possible that Snowden is an 'op' set up by the Controllers to manipulate us in the liberty movement by rendering such an iconic figure, then having him and our hopes dashed. [Jon Rappoport has made some discerning commentary, e.g. here.] You have to admit a) that he's shown superhuman abilities [and why in the world wouldn't NSA/CIA top spooks have seen him coming or have had realistic internal security measures to prevent his breaks], and b) since he's gone public, has any official been able to or willing to do jack to stop unconstitutional spying!? Stone's movie seems to supply plausible counters to Rappoport and others who at least question some of the Snowden 'official story.'
[3] About 2/3 thru the film, Ed makes an off-camera narrative statement that brought me to full attention with primal fear, as if I were out on the African plain with a lion about to pounce. It was something like: "When the government decides to go after you with these tools, it shreds the Bill of Rights… and no one will hear you scream."
Save
Save
Save
Save
Save
Save
Save
Save
This post has been read 2448 times!