Insider look at harsh high world of fashion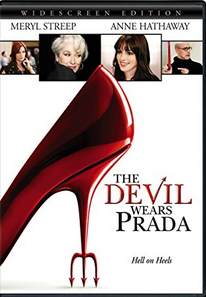 On the face of it, you wouldn't think a movie about the cutthroat, glamorous world of high fashion—specifically the relationship between the domineering editor of New York's premier fashion magazine (Miranda Priestly played by Meryl Streep) and her second assistant, a standout journalism graduate from Northwestern (Andrea Sachs played by Anne Hathaway)—would appeal to "guys."  Devil has chick flick buttoned all over it.
But think again. It's quite the treasure of a movie for all, particularly in the performance of Ms. Streep, who brings to life the boss in extremis we all love to hate.  And truth be told, the movie is a mainly vehicle for displaying the essence of great acting.  You can almost make the case, as with the Rachmaninoff 3d piano concerto or some Jack Nicholson movies, that the virtuoso performance is what makes the piece the piece.
The plot is derived from the popular book by Lauren Weisberger which was a New York Times best-seller for six months and published in 27 countries.  Andrea (Andy) Sachs represents the author's own struggles to "make it there" in New York; she seeks a journalism career via jobs that move her forward.  She interviews with Miranda Priestly for a second-assistant job at Runway and, surprisingly, lands it.
Written by Aline Brosh McKenna (screenplay)
Lauren Weisberger (novel)
Directed by David Frankel
Meryl Streep … Miranda Priestly
Anne Hathaway … Andrea Sachs
Emily Blunt … Emily
Stanley Tucci … Nigel
Simon Baker … Christian Thompson
Adrian Grenier … NateSo why does Miranda open the gate to Andy?
Andy has no idea what she's in for, no concept of fashion and no grasp of how petty and cruel a boss like Miranda can be. The first assistant, Emily (Emily Blunt in a significant role), tries to prepare Andy by giving her a few panicked hints of what to do and by repeatedly telling her "so many girls would kill to have your job.!"
At this point the movie becomes the quintessential "cruel, irrational boss" story, only it isn't completely clear that the cruelty and irrationality are more than skin deep. Anne Hathaway plays the awkward-subordinate role trying to do her best to please Miranda, which is of course not possible. I was not clear whether Hathaway's acting was overly doltish or whether the doltishness was acting in character.
As the film continues, however, because the Andy character becomes increasingly a creature of fashion—i.e. cool—I realize my former impression (that she doesn't click well in the part) is probably the correct impression. But it's all right; I don't even wonder whether Andy's two love interests, Nate (Adrian Grenier) and Christian (Simon Baker) are opposite-cast. Because the interesting, multidimensional character that makes the movie is, of course, Miranda.
Underneath that imperious, icy, demeaning exterior beats the heart of a passionate perfectionist in, to her mind, one of humankind's highest arts. In an early encounter, Miranda comments on Andy's pedestrian clothing choices especially her blue sweater—it looks like something she picked up at the Salvation Army for a camping trip. When Andy disclaims any real desire to be aware of such matters, Miranda lets her have it with both barrels.
As I'm listening to Miranda's soliloquy on the cosmic significance of Andy's sweater, not to mention her other items of apparel, I begin to think, "Wow, there really could be something magical going on here in the world of fashion."  This is the point where I see the genuine humanity of Miranda's character, the ruthless purpose tempered by love of beauty that drives her to be the best.
Also at that point, Andy begins to see beneath Miranda's outer coating. Andy starts to pay attention to fashion, buying new clothes, new shoes; she spends more time reading and learning the history and context of the magazine. And so on. And you wonder how our babe in the woods will fare if she should choose to leave her increasingly high-powered, high-prestige role at the magazine and move on to her chosen field.
Vibrant subject matter, stellar casting.
Save
This post has been read 524 times!