Insider look at harsh high world of fashion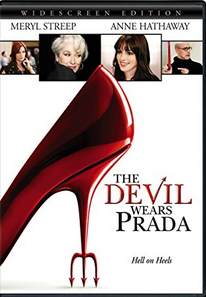 On the face of it, you wouldn't think a movie about the cutthroat, glamorous world of high fashion—specifically the relationship between the domineering editor of New York's premier fashion magazine (Miranda Priestly played by Meryl Streep) and her second assistant, a standout journalism graduate from Northwestern (Andrea Sachs played by Anne Hathaway)—would appeal to "guys."  Devil has chick flick buttoned all over it.
But think again. It's quite the treasure of a movie for all, particularly in the performance of Ms. Streep, who brings to life the boss in extremis we all love to hate.  And truth be told, the movie is a mainly vehicle for displaying the essence of great acting.  You can almost make the case, as with the Rachmaninoff 3d piano concerto or some Jack Nicholson movies, that the virtuoso performance is what makes the piece the piece.
The plot is derived from the popular book by Lauren Weisberger which was a New York Times best-seller for six months and published in 27 countries.  Andrea (Andy) Sachs represents the author's own struggles to "make it there" in New York; she seeks a journalism career via jobs that move her forward.  She interviews with Miranda Priestly for a second-assistant job at Runway and, surprisingly, lands it. Continue reading →