The government doesn't want you to read
by Jesse Ventura
Review by Brian R. Wright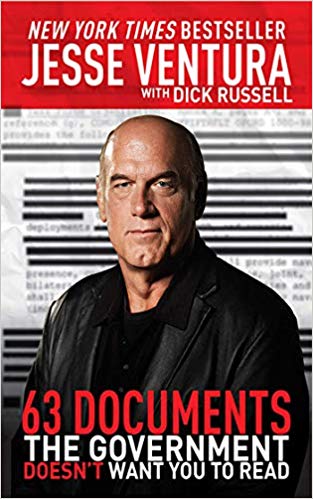 Review first published 12/16/2011.
Nice little compendium of what many of us longtimers in the Truth and Freedom Movement (TFM) have known for some time, but perhaps not realized the source material for. The Governor has performed a wonderful public service by compiling 63 documents—actually 63 sets of documents—on US government (USG) crimes, atrocities, and coverups … and precursors of USG crimes, atrocities, and coverups. Everything from JFK deciding to pull out the troops from Vietnam (pretext for his assassination) to the USG letting a major pharmaceutical company distribute a pesticide for spraying that imperiled the honeybees is covered.
If you believe in things like making a pact with the devil, you might say that our own intelligence agencies did just that at the end of World War 2. That's when we started giving many of Hitler's top henchmen not only sanctuary in our country, but putting these same Nazis to work for us. The Cold War with the Soviet Union was beginning—and the excuse was that we needed every bit of expertise, scientific and otherwise, that we could get.

It almost seems to me that the Cold War was staged so the weapons manufacturers and others could make money off it. Otherwise, how could we go from being allies with the Russians all through the war to their becoming our bitter enemies almost overnight? As Colonel Fletcher Prouty once said, "Nothing just happens, everything is planned."
— page 60
All These Docs Are Government Docs
In fact, the book should have been named more accurately, 63 Sets of Government Documents that the Government Didn't Really Plan on You Reading. Most of them were classified at one time or another, but some of them slipped thru the bureaucratic cracks, and others were obtained via Freedom of Information Act (FOIA) requests. What I like about Jesse Ventura writing something like this—with Dick Russell—is that he sounds like a fairly ordinary guy. Not some Alex Jones or Jim Marrs knowledgeable expert who has been studying the invisible government and Men of the Power Sickness (MOPS) forever. For example, when he discusses the Pentagon's non-response on 9/11:
The question that's haunted me from day one is how come the world's biggest military superpower was somehow oblivious to rogue airliners in American air space for more than an hour, and our top brass seemed so befuddled in terms of dealing with hijackers apparently using these four planes as flying bombs. Why couldn't our fighter jets intercept at least one of them? — page 217