… but no one wants to BE Atlas Shrugging
By Brian R. Wright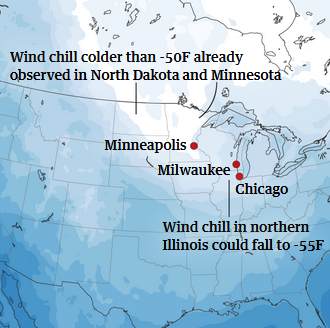 When: Wednesday, January 30, 2019 and Thursday, January 31 'til noon.
Where: Livonia, Michigan; Southeast and South Central Michigan.
Context: Polar Vortex, unprecedented arctic cold temperatures and winds
Note: Michigan is east of Chicago and on top of the word "Chicago" in the vortex map on the right. The US Post Office cancelled delivery operations in 10 states, Michigan being one.
Company: We do mobile swallow studies in southern Michigan, using a driver-technician, speech pathologist, and medical physician—travel to rehabilitation facilities in a Ford Transit 250, with a 500 lb. rolling Fluorscope machine and gear to diagnose and help patients swallow better. I'm the lead driver-tech, and was NOT scheduled to go out on 1/30 or 1/31. NOR WOULD I HAVE CONSENTED TO GO ON 1/30 ALL DAY OR 1/31 A.M… AT GUNPOINT.
Incident: Our company in central Illinois, of all places, schedules the Livonia, Michigan, team to go to three facilities on 1/30, where the HIGH temperatures for the day are -10º and sustained winds are above 20 mph (wind chill -45º. Further, the company schedules local studies on 1/31 where the morning high is -15º (!) and sustained winds are above 10 mph (temps were headed toward zero at around noon).
Coincident: Everyone on the Michigan swallow teams for 1/30 and 1/31 a.m.—one driver-tech (50-something guy), two speech paths (young mothers, 30-somethings), and two MDs (one single woman, 40-something; one man, ~74)—complies with the company dictated schedule without a peep [note: the woman MD on the Wednesday was likely gung ho to go because that's her 'certifiable' nature].
My Deep  Philosophical Question of the Moment
Why? Continue reading →