Whenever a government becomes destructive…
by Dwight Johnson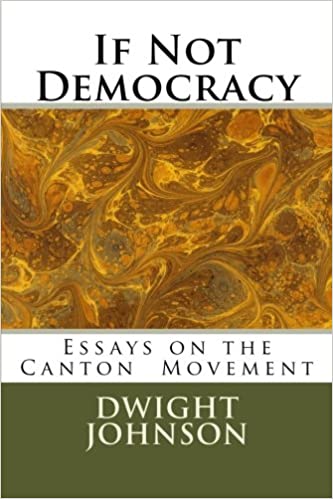 We hold these truths to be self-evident, that all men are created equal, that they are endowed by their Creator with certain unalienable rights, that among these are life, liberty and the pursuit of happiness. That to secure these rights, governments are instituted among men, deriving their just powers from the consent of the governed.
That whenever any form of government becomes destructive to these ends, it is the right of the people to alter or to abolish it, and to institute new government, laying its foundation on such principles and organizing its powers in such form, as to them shall seem most likely to effect their safety and happiness. — from the Declaration of Independence
The following column is a compilation from Dwight Johnson's Website, The Canton Movement (http://www.cantonmovement.com). I caught up with Dwight roughly a year and a half ago, finding his development of the idea of panarchy—freedom of choice in government—to be a simple and practical method for moving away from coercive government with minimal blood, sweat, and tears.
If done right, implementation can result in going to bed one night under our gangster government's thumb and waking up the next morning a free person, with others, protected from the gangsters by a common, mutual defense agreement of the honest. IMHO panarchy and the cantonization process are the final piece of the puzzle for those who deny consent to gangster compulsory government—which we discussed in the guest column, Imagine There's No Congress, by Jim Babka last week.
The Political Mess
Politicians are people who make friends for themselves with other people's money. With money from taxpayers. With your money.
We are supposed to have governments of representational democracy. The truth is that politicians get themselves elected in a very tightly-controlled system that limits the viable parties to two. The electoral process ensures that someone will get elected to office, even if the electorate is not particularly happy with either candidate, increasingly voting for the lesser of two evils, or just not voting at all out of frustration. Continue reading →