The plot to rule the Middle East
by Christopher Bollyn
Reviewed by Brian R. Wright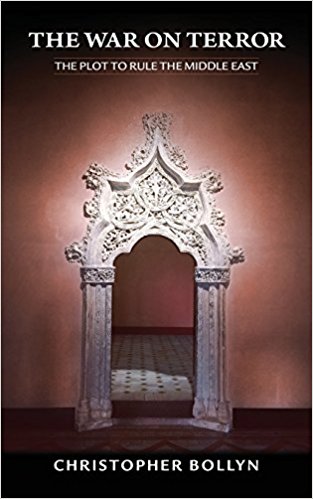 Talk about the perfect book to come along at the right time, The War on Terror is a godsend. For one thing, it's brief, more important, concise, a book you can hand to a public official or even one of the three good mainstream journalists, and chances are maybe 10% they'll read it… and correct their thinking.
Lately, Chris Bollyn, long an acclaimed inde-pendent international journalist who has hereto-fore focused on the evidence for Israel's role in 9/11, has been arguing brilliantly for the dual, related frauds of 9/11 and the so-called War on Terror. This book lays out the convincing if not irrefutable case for the latter: the Israeli-Zionist deep state architecting and execution of the Western Cabal's war OF terror and Empire to which innocent people of the world have been mercilessly subjected for going-on five decades… the ultimate objective being to fulfill the Greater Israel Project for full-spectrum dominance or destruction of Israel's neighbors, then the remainder of the planet.
Mr. Bollyn helps the world's thinkers and carers to finally turn the corner and call out those responsible for all these crimes. [The method I envision is a specially composed inter-national people's grand jury serving as a Truth and Justice Commission along the para-meters we saw in indicting and undoing the apartheid state of South Africa.]
Background Reading
I feel the reader will find a better grasp of the global forces at play from the following works:
Of course, there are many other works forming a background for what Mr. Bollyn is presenting in his devastating handbook about the War on Terror. Dr. Alan Sabrosky, who writes the foreword to the book, notably articulates the case for 9/11 being a "classic Mossad operation" in this landmark video here, and others. Continue reading →