Prosecuting criminal behavior in the forced installation of smart meters
Courtesy Jerry Day and David Lonier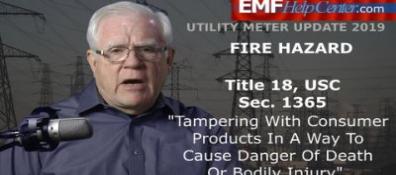 Another in a series of taking back our country one criminal complaint at a time. The forced installation of so-called smart electrical meters (harmfully radiating, fire-hazard home surveil-lance devices) is illegal and a violation of First Principles. Unfortunately, the utility companies do not care and the justice system and police simply protect them in the continued violation of the law and your rights.
Jerry Day, who produces this YouTube video here, maintains a site that offers a prudent means of proceeding by going on the offensive against the corrupt public officials subjecting you to risk, harm, and unwarranted surveillance. That site is here: https://www.emfhelpcenter.com/. But just in case you do find an attorney of principle, or (my approach) start filing complaints with your local people's independent First Principles' grand jury. here is a list of laws violated in Michigan. [Use the compiled laws of your own state to tailor your own list.]
Laws Violated by the Forced Install of Smart Meters
Michigan Penal Code, Act 328 of 1931: MCL 750.539 a & d –
It's a felony to install a surveillance device on private property without the explicit consent of the owner.
http://www.legislature.mi.gov/%28S%28r11vuglduqxeq205q3g5p3az%29%29/mileg.aspx?page=GetObject&objectname=mcl-750-539d
Michigan Electrical Code, MCL R 408.30827, 80.26. Service equipment
The enforcing agency shall approve service equipment installed, altered, or  repaired before the load side of the meter is energized.
https://www.michigan.gov/documents/lara/lara_bcc_electrical_2014_part_8_rules_492610_7.pdf
MCL 460.62 Public Utilities Commission Act 419 of 1919for the preservation of the public peace, health and safety.
http://www.legislature.mi.gov/(S(wvu3pujx4ce3inhhnj5n5yuq))/mileg.aspx?page=getobject&objectname=mcl-460-62&query=on&highlight=Health%20AND%20Safety
MCL R 460.115 Utility customers may self-read their meters.  May report by postcard, E-mail or telephone
http://nebula.wsimg.com/839a618561f2a132b373c011cc13f0ca?AccessKeyId=45D5F0895292937395F6&disposition=0&alloworigin=1 Continue reading →